Eric Clapton, a legendary guitarist, began his musical career in the early 1960s in Surrey, England. His passion for blues music and exceptional guitar skills led him to join several bands throughout his career.
Notably, he kickstarted his journey in the music industry by joining the Yardbirds, a prominent English rock band, from 1963 to 1965.
After his time with the Yardbirds, Clapton found continued success with John Mayall & the Bluesbreakers from 1965 to 1966. However, it was his involvement with the band Cream that earned him widespread recognition and solidified his status as a pioneering guitarist.
Clapton's collaborations with various bands and subsequent solo career further established him as a major singer-songwriter.
Key Takeaways on What Band Did Eric Clapton Play With?
Eric Clapton began his career playing guitar in the Yardbirds, later joining John Mayall & the Bluesbreakers and Cream
Clapton's collaborations with various bands led to a successful solo career as a singer-songwriter
Throughout his career, Clapton garnered numerous accomplishments and recognition for his guitar skills and musical contributions
You might also like:
Early Years and Musical Beginnings
Eric Clapton was born in 1945 in Surrey, England. In the early 1960s, his passion for blues music and guitar led him to play in local pubs around his hometown, eventually joining his first band, the Roosters, at the age of seventeen.
After the Roosters disbanded, Clapton soon found himself joining another band: The Yardbirds, in 1963. Formed by musicians such as Paul Samwell-Smith and led by manager Giorgio Gomelsky, the Yardbirds became Clapton's first taste of success.
The band's innovative blend of blues and rock styles helped to establish Clapton's reputation as a top-notch guitarist.
Despite his growing fame with the Yardbirds, Clapton's dedication to blues music led him to depart the band in 1965. His next venture was with John Mayall's Bluesbreakers, where he continued honing his guitar skills and deepening his understanding of blues music.
Clapton's tenure with the Bluesbreakers was relatively short-lived, but his exceptional guitar playing on their 1966 album, "Blues Breakers with Eric Clapton," earned him the nickname "Slowhand."
Through the years, Clapton contributed his signature guitar skills to various bands and collaborated with numerous talented musicians in the process.
The Yardbirds, John Mayall's Bluesbreakers, and the Roosters were just the beginning of Eric Clapton's illustrious career, which would eventually lead him to success as a solo artist and solidify his position as one of the most influential guitarists in rock history.
Cream and Continued Success
Cream was a British rock band formed in London in 1966, consisting of bassist Jack Bruce, guitarist Eric Clapton, and drummer Ginger Baker. Known as the first supergroup, the trio delivered a powerful combination of blues and psychedelic rock, leaving an incredible mark on the world of music.
Their debut album, Fresh Cream, released in 1966, displayed the raw talent of the band members but only hinted at the success that was soon to follow. In 1967, the band released their second studio album, Disraeli Gears.
This album featured the classic hit "Sunshine of Your Love," which quickly helped to make Cream one of the most significant bands of the decade.
The success of Disraeli Gears propelled Cream to international fame, as they continued to experiment with their unique mix of blues and psychedelic rock. Their third album, Wheels of Fire, featured the memorable song "White Room," showcasing the band's continued growth and evolving sound.
Despite the commercial success and international acclaim, Cream ultimately decided to disband in the spring of 1968. Their time together, however, left a lasting impact on the music industry and the future careers of all three musicians.
Eric Clapton's time with Cream was particularly influential on his later work, as it allowed him to explore and develop his outstanding guitar skills and creative abilities, channels which continued after Cream's disbandment.
Cream's relatively short but impactful career produced unforgettable classics that blended blues and psychedelic rock, leaving a significant mark in the history of rock music.
With Eric Clapton's guitar virtuosity, Jack Bruce's powerful bass playing, and Ginger Baker's intense drumming, the band etched an everlasting legacy that still inspires musicians today.
Other Collaborations and Solo Career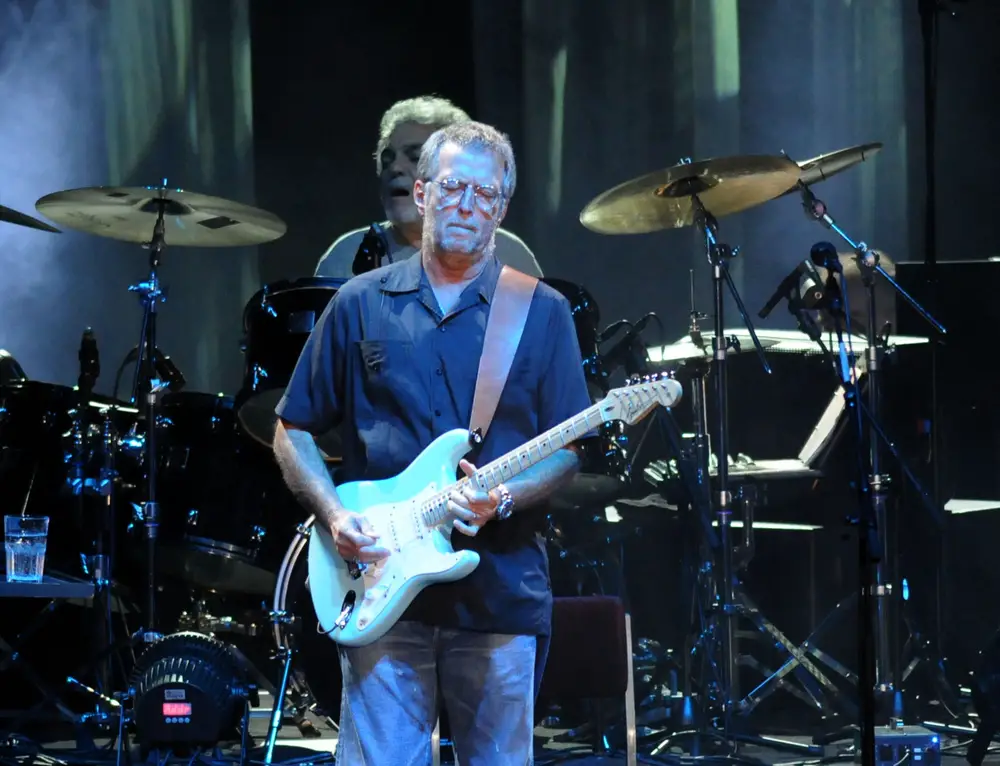 Eric Clapton's musical journey includes various collaborations with notable artists and bands, as well as a thriving solo career.
One of his early collaborations was with the supergroup Blind Faith, where he played alongside Steve Winwood, Rich Grech, and Ginger Baker. Blind Faith's self-titled album featured the hit song "Can't Find My Way Home."
Clapton went on to form Derek and the Dominos, another significant band in his career. The band released "Layla and Other Assorted Love Songs," a highly praised album with the iconic title track "Layla."
The lyrics were inspired by his infatuation with George Harrison's wife, Pattie Boyd. Clapton's friendship with Harrison also led to collaborations on songs like "While My Guitar Gently Weeps" from The Beatles' White Album, and later, "My Sweet Lord" by George Harrison.
In 1970, Eric Clapton transitioned into a solo career, making a lasting impact on rock music and building a diverse discography. His first solo album, 461 Ocean Boulevard, was released in 1974 and featured the hit single "I Shot the Sheriff," a cover of Bob Marley's original song. The album showcased his shift towards a softer sound, blending blues and rock.
Clapton's solo work continued with albums like "Backless," which included notable tracks like "Promises" and "Tulsa Time." His affinity for blues music also led him to create the Grammy-winning album "Journeyman," featuring collaborations with George Harrison and Phil Collins. This album was a tribute to legendary blues artist Robert Johnson.
Throughout his career, Eric Clapton has successfully navigated the realms of rock music, hard rock, and blues rock, earning the admiration of fans and musicians alike.
Accomplishments and Recognition
Eric Clapton is a legendary musician who has played with several iconic bands throughout his career, such as The Yardbirds, Cream, and Derek and the Dominos. Over the years, he has achieved numerous accolades and is often regarded as one of the most influential guitarists in the history of rock music.
Clapton's outstanding career has been recognized by prestigious organizations like the Rock and Roll Hall of Fame.
He holds the distinguished honor of being inducted into the Rock and Roll Hall of Fame three times – once as a member of The Yardbirds, once as a member of Cream, and once as a solo artist. This remarkable accomplishment is a testament to his talent and enduring influence in the world of music.
In addition to his Hall of Fame inductions, Clapton has also been lauded for his work as a solo artist, winning numerous Grammy Awards. One of his most notable Grammy triumphs came in 1993, when he won the Record of the Year for his emotional ballad, "Tears in Heaven."
Besides these accomplishments, Clapton has been featured on several prestigious lists that rank artists based on their impact and legacy. VH1, for instance, named him one of the 100 Greatest Artists of All Time. His inclusion in this elite group further solidifies his place as a pivotal figure in the history of rock music.
Moreover, Clapton has been celebrated by Rolling Stone magazine. In their list of the 100 Greatest Guitarists of All Time, Clapton was ranked in the top five. This acknowledgment further highlights the immense impact he has had on the world of rock and roll and his unparalleled skill as a guitarist.
It is clear that Eric Clapton's many achievements and recognitions in the music world are a testament to his incredible talent, dedication, and influence. From prestigious awards to significant rankings on venerable lists, Clapton's legacy in the world of rock music continues to be celebrated and revered.
Personal Life and Legacy
Eric Clapton experienced both triumph and tragedy in his personal life. He was married to Pattie Boyd, a model and photographer, who inspired some of his most famous songs such as "Layla" and "Wonderful Tonight."
The couple eventually divorced in 1989. One of the most significant tragedies in Clapton's life was the loss of his son Conor in 1991, which profoundly impacted him and led to the creation of the emotional ballad "Tears in Heaven."
As a prominent guitarist, Clapton has been involved with numerous guitar-related events and collaborations. The Crossroads Guitar Festival, founded by Clapton, is a notable event that showcases legendary guitarists from various genres.
This festival benefits the Crossroads Centre, a substance abuse rehabilitation facility founded by Clapton in Antigua to help individuals overcome addiction.
Throughout his career, Clapton has had strong connections with the Gibson guitar company, popularizing models like the Gibson Les Paul and the Gibson SG during his time with various bands.
In addition to his work with bands, Clapton has released several successful solo albums such as "Old Sock," "The Road to Escondido," and "Riding with the King." Each of these albums showcases his exceptional guitar skills and his ability to collaborate with renowned musicians, further cementing his legacy as a leading figure in rock and blues music.
Frequently Asked Questions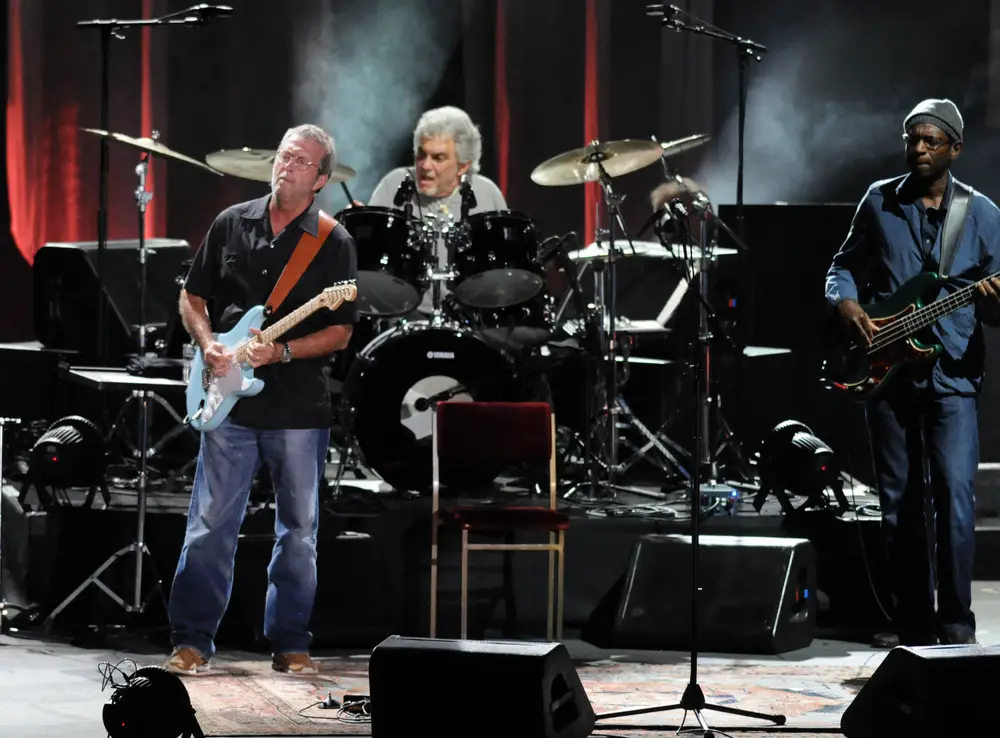 In which bands has Eric Clapton been a member?
Eric Clapton has been a member of several bands throughout his career. Some of the most notable ones include
The Roosters, The Yardbirds, John Mayall & the Bluesbreakers, Cream, and Derek and the Dominos. Clapton also collaborated with various musicians in interlocking circles throughout the years, such as a band consisting of Steve Gadd, Joe Sample, and David Sanborn at the Montreux Jazz Festival.
Which band did Eric Clapton form after leaving the Yardbirds?
After leaving the Yardbirds, Eric Clapton joined John Mayall & the Bluesbreakers for a brief period. However, the band he is most notably associated with after leaving the Yardbirds is Cream, which he formed with Jack Bruce and Ginger Baker. Cream became one of the most influential rock bands of the 1960s.
What bands did Eric Clapton play in before pursuing a solo career?
Before pursuing a solo career, Eric Clapton played in several bands such as the Roosters, the Yardbirds, John Mayall & the Bluesbreakers, Cream, Blind Faith, and Derek and the Dominos.
Did Eric Clapton and Jimmy Page ever play together in a band?
Eric Clapton and Jimmy Page never played together in a single band. However, they both played for the Yardbirds at different times. Clapton left the Yardbirds in 1965, and Page joined the band later, initially as a bassist and then as a lead guitarist.
Which band did Eric Clapton leave to form Cream?
Eric Clapton left John Mayall & the Bluesbreakers to form Cream, a highly influential rock band, along with Jack Bruce and Ginger Baker.
What is the common link between The Yardbirds, Cream, and Blind Faith?
The common link between The Yardbirds, Cream, and Blind Faith is Eric Clapton. He was a member of all three bands during different periods of his career. While he gained popularity with the Yardbirds, it was with Cream and Blind Faith that Clapton became known for his guitar skills and innovative playing style.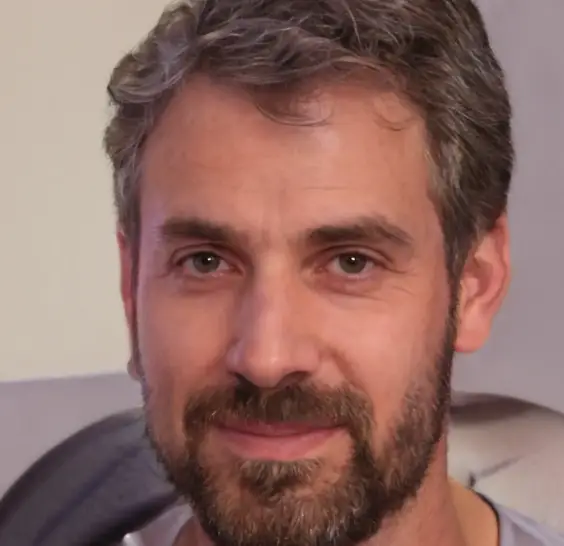 My name is Howard Matthews and I have been playing the guitar since I was knee-high. My parents like to joke that I was pulling the strings even before I was born. In fact, one of my earliest memories is sitting on the couch with my dad's guitar, wreaking havoc on the chords.
Now, 40 years later, I can attest that I play them much better than I did back then. I have followed in the footsteps of both my parents – much to their delight – and have been the main guitarist in my band for the best part of three decades.
Music has always been my passion, and until recently my life has been so consumed with it that I haven't had a moment to have a breath (and I wouldn't have it any other way)!