Eddie Van Halen, the legendary rock musician and guitarist, was known for his immense talent, skill, and contribution to the world of music.
As the co-founder of the iconic rock band Van Halen, he had an incredible impact on the music industry, influencing countless musicians and delighting fans all over the globe. However, outside of his remarkable musical career, Eddie also had a personal life and family that many are curious about.
One topic of interest is regarding Eddie Van Halen's children. To answer the main question, Eddie had one child, a son named Wolfgang Van Halen, born in 1991 in Santa Monica, California.
Wolfgang is the result of Eddie's first marriage to actress Valerie Bertinelli, which lasted from 1981 to 2007. Wolfgang has followed in his father's footsteps, becoming a musician himself and even sharing the stage with the Van Halen band.
Key Takeaways on How Many Children Did Eddie Van Halen Have
Eddie Van Halen had one son, Wolfgang, from his marriage to Valerie Bertinelli.
Wolfgang also pursued a career in music, performing with Van Halen.
Eddie's personal life and relationships were influenced by his prominent career in the music industry.
Also don't miss:
Eddie Van Halen's Early Life and Family
Eddie Van Halen was born Edward Lodewijk Van Halen in Amsterdam on January 26, 1955. His father, Jan van Halen, was a Dutch jazz pianist, clarinetist, and saxophonist, while his mother, Eugenia, was an Indo-Eurasian woman from Rangkasbitung, Indonesia. Eddie had a brother, Alex Van Halen, who would also become a musician, playing drums for the band Van Halen.
Their family moved from Amsterdam to Nijmegen, Netherlands when Eddie was young and later decided to immigrate to the United States in 1962.
This change in environment was pivotal in shaping Eddie's musical inclinations. In the Netherlands, the Van Halen brothers were exposed to classical piano lessons and developed an appreciation for Mozart.
One of the defining aspects of Eddie's early life and family was their strong connection to music. Despite having a strict upbringing with mandatory classical piano lessons, Eddie and his brother Alex chose to explore other genres and instruments on their own terms. This passion for music served as the foundation for their future careers and would fortify the bond between the siblings.
In their teenage years, Eddie and Alex formed several bands, experimenting with different styles and sounds. It wasn't until the early 1970s when they launched the band Mammoth.
Mammoth eventually evolved into Van Halen, with Eddie on guitar and Alex on drums, giving rise to one of the most iconic hard rock bands in history.
Eddie's family life shifted in the early 1980s when he married actress Valerie Bertinelli, with whom he had his only son, [Wolfgang Van Halen](https
Musical Career and Legacy of Eddie Van Halen
Eddie Van Halen was a renowned musician, best known as the guitarist and primary songwriter of the rock band Van Halen. He formed the band with his brother Alex in the 1970s, which went on to have a successful and influential career.
Eddie was not only a guitarist but also a keyboardist and backing vocalist for the band. His son, Wolfgang Van Halen, followed in his footsteps and became a talented bassist, joining his father's band at a young age.
Over the years, Van Halen had several lineup changes, including the departure of original lead vocalist David Lee Roth, who was replaced by Sammy Hagar, and later by Gary Cherone.
Bassist Michael Anthony also left the band and was replaced by Wolfgang. Despite these changes, the band maintained its popularity and continued to release successful albums.
Some of their most notable albums include Van Halen II, Diver Down, 1984, and 5150. Their music encompassed various styles, such as hard rock and heavy metal, which contributed to their vast and diverse fan base. The band's success led to their induction into the Rock and Roll Hall of Fame in 2007.
Eddie Van Halen's innovative guitar playing techniques, such as finger tapping, significantly impacted the rock and guitar world. His numerous contributions to the music industry earned him a respected place among other legendary musicians.
Besides his work with the band, Eddie also contributed a memorable guitar solo to Michael Jackson's hit song "Beat It," further solidifying his status as a top guitarist.
Van Halen's popular and chart-topping songs include "Jump," "Panama," "Runnin' with the Devil," and "Unchained." Their 1991 album, For Unlawful Carnal Knowledge, won a Grammy Award and featured the hit song "One Day at a Time."
Eddie Van Halen's musical career and legacy continue to influence and inspire musicians worldwide. His unique guitar playing style and the success of the band Van Halen have left an indelible mark on the history of rock and roll.
Personal Relationships and Marriages
Eddie Van Halen, the renowned guitarist, had two significant romantic relationships in his life. He was first married to actress Valerie Bertinelli in 1981, after meeting her at a Van Halen concert.
They shared over two decades of marriage, during which they had a son, Wolfgang Van Halen, born in 1990. Unfortunately, their relationship did not last forever, and in July 2002, they announced their separation, eventually finalizing their divorce in 2007.
Wolfgang, their son, followed in his father's footsteps and pursued a career in music. He became an essential part of Van Halen, playing bass guitar alongside his father and uncle, Alex Van Halen.
Wolfgang's bond with his father was quite strong, and he even confirmed the news of Eddie's death through a touching tribute on social media in October 2020.
After his first marriage ended, Eddie found love again and married Janie Liszewski in 2009. Janie was a professional stuntwoman and actress and later became Van Halen's publicist. Their wedding was an intimate affair, attended by close friends and family, including Wolfgang and Eddie's brother, Alex, who officiated the ceremony.
Prior to his marriage to Janie Liszewski, Eddie Van Halen also reportedly had a relationship with a woman named Andraia Allsop. Though not much is known about their time together, it's clear that Eddie's personal life expanded beyond his two official marriages.
Throughout his life, Eddie Van Halen had various romantic partners, two marriages, and one son, Wolfgang. These relationships played a vital role in shaping the musician's personal experiences and, in some ways, his career as well.
Eddie's Battle with Cancer and His Passing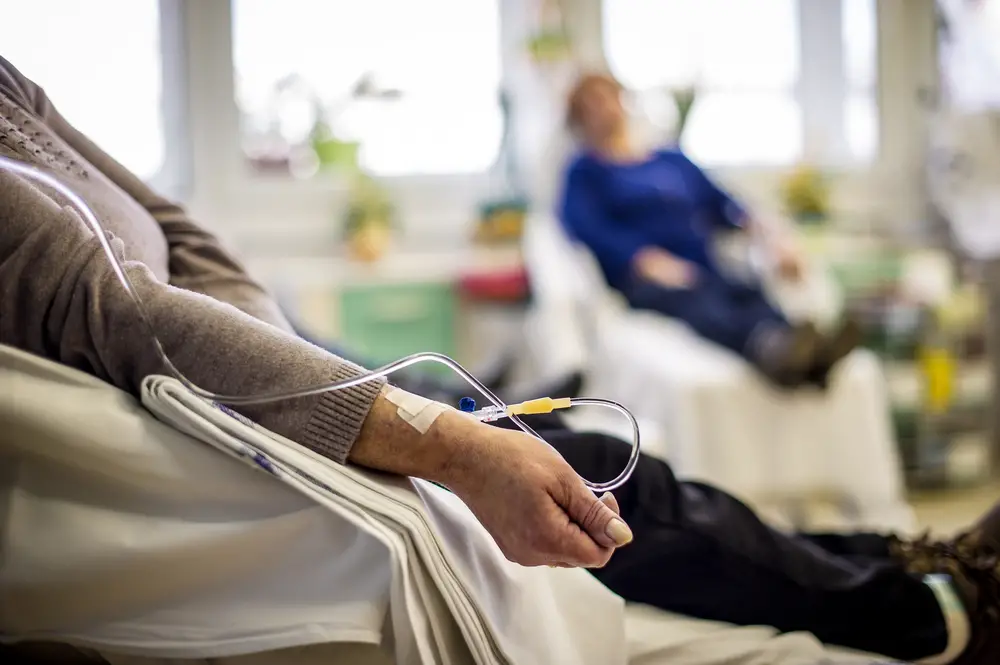 Eddie Van Halen, the legendary guitarist, faced a long and arduous battle with throat cancer. His fight against this debilitating disease lasted for nearly two decades, during which he continued to produce iconic music and inspire generations of musicians. Eddie eventually succumbed to his illness in Los Angeles, California, on October 6, 2020, leaving behind a profound legacy.
Throat cancer is a serious and life-threatening condition that requires aggressive treatment. Although Eddie underwent various treatments to combat his cancer, it ultimately claimed his life at the age of 65.
His passing was a shock to many fans and fellow musicians, as the gravity of his disease was not widely known, giving a somber reminder of the severity of such illnesses.
Throughout his personal life, Eddie faced numerous challenges beyond his cancer diagnosis, such as substance abuse and health problems. Despite these obstacles, he persevered in his musical career and continued to make an impact on the world of rock.
His family, friends, and fans continue to mourn his passing, reflecting on the significant contributions he made to the music industry and countless lives touched by his artistry.
While the world battled the COVID-19 pandemic in 2020, Eddie fought his own battle away from the spotlight. The impact of his loss reverberated across the globe, as people came together to celebrate his life and honor his memory.
His dedication to excellence and passion for music serves as a powerful reminder of the importance of resilience and determination, even when facing devastating challenges like cancer.
Influence and Recognition of Eddie Van Halen
Edward Lodewijk Van Halen, best known as Eddie Van Halen, was a legendary guitarist and one of the founding members of the rock band Van Halen. His extraordinary talent and innovative techniques made him one of the best-selling artists of his time.
With an unmistakable sound and style, Eddie Van Halen's influence on other guitarists has been profound. His technique, known as tapping, allowed him to play rapid arpeggios and other complex patterns with incredible speed.
This revolutionary approach inspired countless musicians and shaped the sound of rock music throughout the decades following.
Eddie Van Halen's contributions to music have been widely recognized by both fans and critics alike. His numerous accomplishments include several Grammy nominations with the band Van Halen, as well as recognition for their groundbreaking music videos.
In 2023, Rolling Stone ranked Eddie Van Halen as the 4th greatest guitarist of all time, solidifying his place in the pantheon of guitar legends.
Over the course of their illustrious career, Van Halen garnered numerous accolades at industry award shows such as the Billboard Music Awards. With Eddie Van Halen at the forefront, the band maintained a strong presence on the charts, making them one of the most successful rock bands in the history of popular music.
Though Eddie Van Halen passed away in 2020, his lasting impact on the music world continues to be felt today. His fearless creativity and unwavering dedication to his craft have garnered him a well-deserved spot in the hearts of music fans around the globe.
Frequently Asked Questions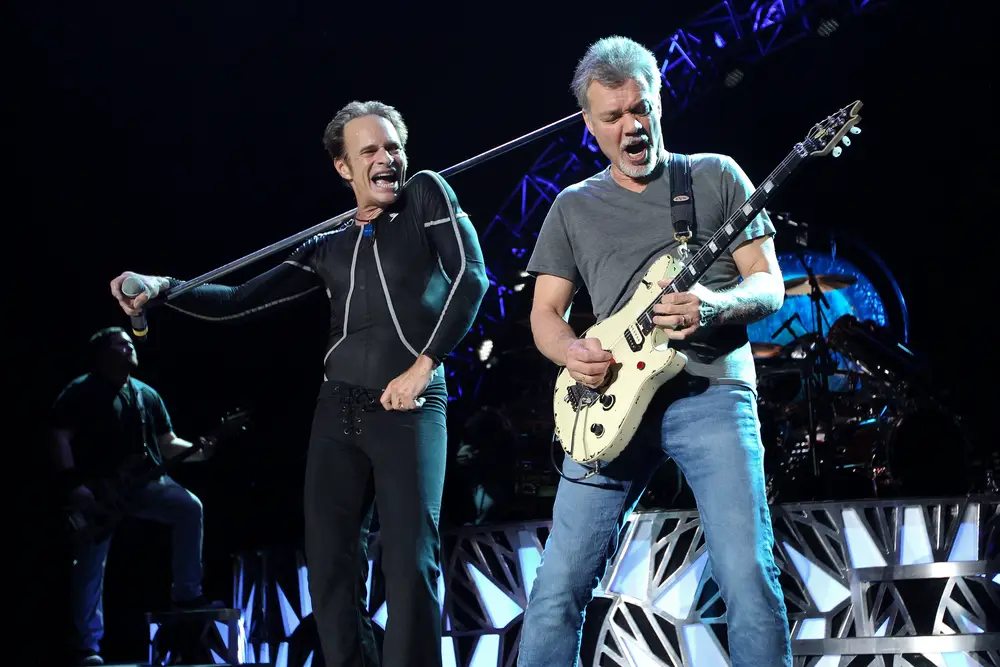 Who are the mothers of Eddie Van Halen's children?
Eddie Van Halen has one son named Wolfgang Van Halen. His mother is Valerie Bertinelli, who was Eddie's first wife. They were married from 1981 to 2007. Eddie did not have any other children.
What is the name of Eddie Van Halen's son?
Eddie Van Halen's son is named Wolfgang Van Halen. He is a talented bassist who joined Van Halen at just 15 years old.
Did Eddie Van Halen have any daughters?
No, Eddie Van Halen did not have any daughters. He only had one child, his son, Wolfgang Van Halen.
Were all of Eddie Van Halen's children involved in music?
As Eddie Van Halen had only one child, Wolfgang Van Halen, it can be said that all of his children were involved in music. Wolfgang pursued a career in music, becoming a bassist in the band Van Halen and playing alongside his father.
What is the relationship between Wolfgang Van Halen and Eddie Van Halen?
Wolfgang Van Halen is the only son of Eddie Van Halen. They had a close relationship, with Wolfgang joining his father's band as a bassist at the age of 15. They played together in the band until it was disbanded in 2020.
How many times was Eddie Van Halen married?
Eddie Van Halen was married twice. His first marriage was with actress Valerie Bertinelli, from 1981 to 2007. After divorcing Bertinelli, Eddie married his second wife, Janie Liszewski, in 2009. They remained married until Eddie's death in 2020.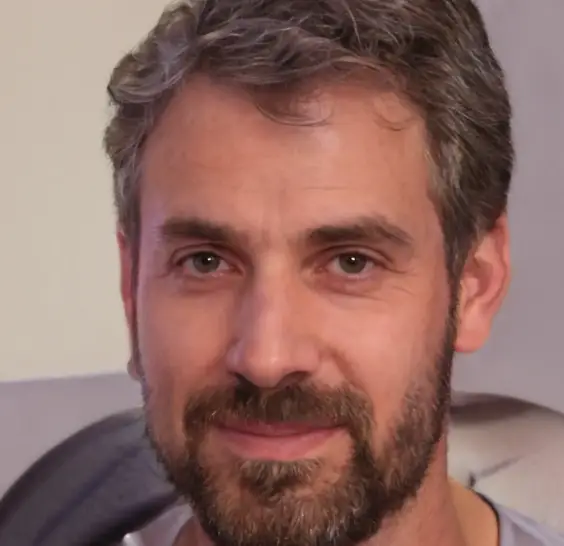 My name is Howard Matthews and I have been playing the guitar since I was knee-high. My parents like to joke that I was pulling the strings even before I was born. In fact, one of my earliest memories is sitting on the couch with my dad's guitar, wreaking havoc on the chords.
Now, 40 years later, I can attest that I play them much better than I did back then. I have followed in the footsteps of both my parents – much to their delight – and have been the main guitarist in my band for the best part of three decades.
Music has always been my passion, and until recently my life has been so consumed with it that I haven't had a moment to have a breath (and I wouldn't have it any other way)!