Purchasing a guitar is an incredibly exciting time. However, we know that it can be a bit stressful too, particularly for beginners.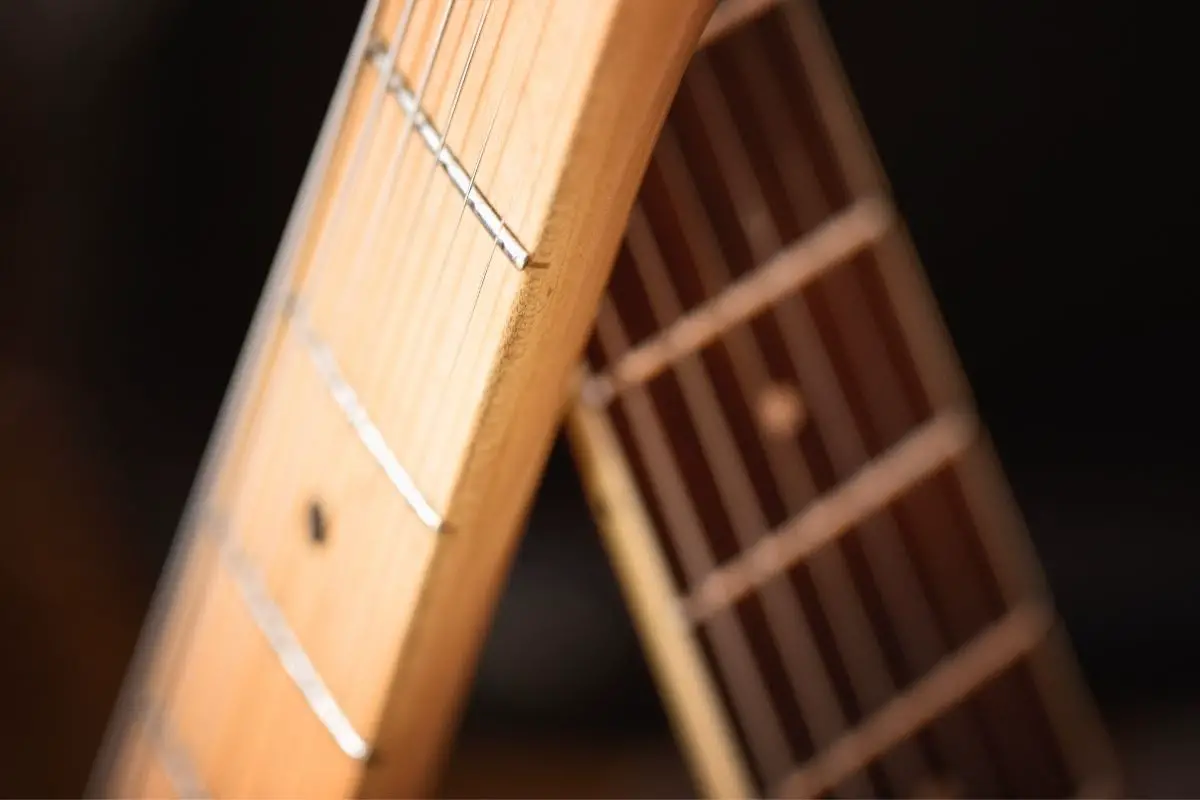 There is a huge range of things you need to consider when purchasing a guitar. In fact, the list can often feel neverending!
One of the main things that you need to think about is the type of fretboard you will need.
The material of the fretboard is an often-overlooked aspect of the guitar, however, it can dictate how able you are to play the instrument, and the type of sound it produces.
There are a number of different materials that are used in the construction of the fretboard. These can be synthetic or wood, however, most guitarists prefer to opt for a guitar with a wooden fretboard.
This is because wooden fretboards tend to produce a more natural sound and are more durable.
Guitarists often debate whether a rosewood or maple wood fretboard is the better choice for their instrument.
The two kinds of wood are very popular, but they each have a very distinct appearance, tone, and qualities.
To learn which one is better suited to you and your style of playing, take a look at this ultimate guide!
We cover everything you need to know, from playability to affordability and everything in between. You'll be an expert on fretboards in no time.
Rosewood Vs Maple Neck
Rosewood and maple are the most common choices for guitar necks. Each has its pros and cons. But what are the key differences?
In short, maple wood is denser, stiffer, and harder than rosewood. This gives guitar necks made from maple more stability and strength. Also, a solid foundation for strings that enhances the stability of tuning.
More contributes to their durability. Since the hardwood is more resistant to regular wear and tear.
In addition, the maple neck is smoother. This gives players a great surface for fast and technical playing.
On the other hand, rosewood is dense with a smooth but oily surface. This provides excellent comfort when playing for extended periods. The density also contributes to a warm and rich tone, which is ideal for certain genres like jazz and blues.
What Is A Fretboard?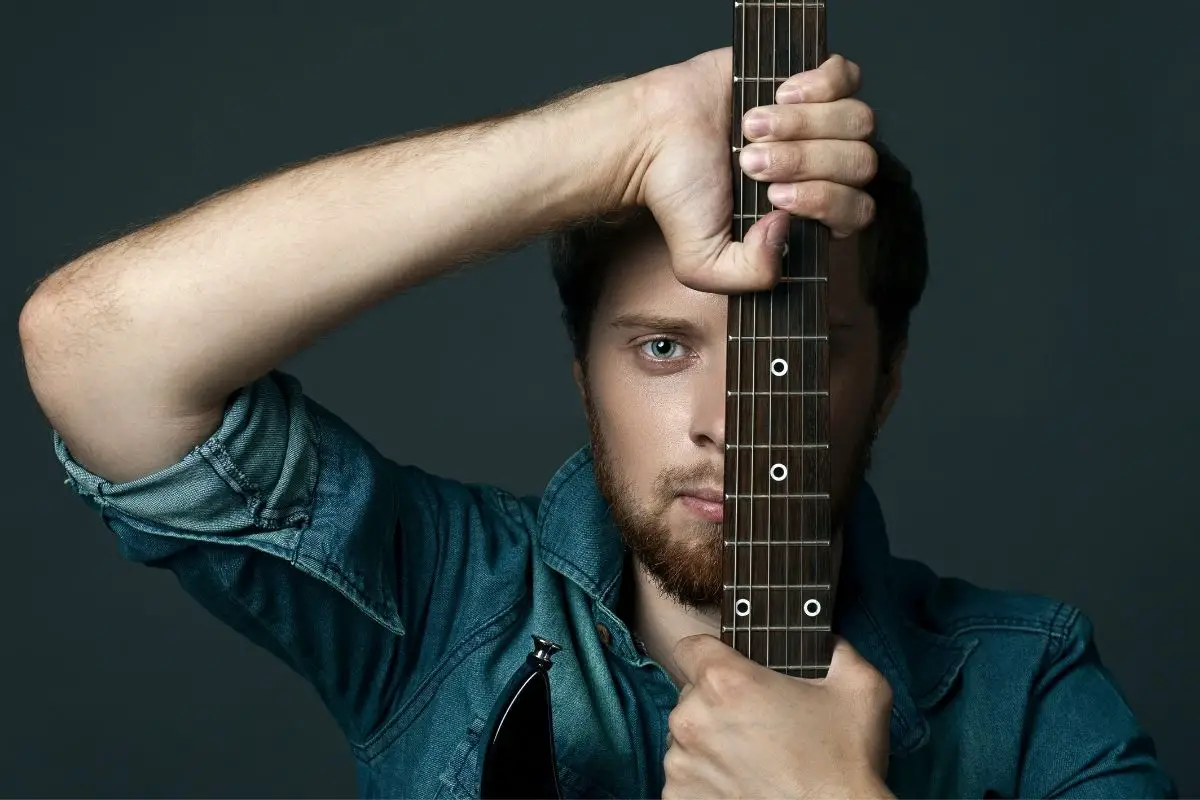 Let's start right at the beginning.
A fretboard is a very important part of a stringed instrument. It is where the frets are placed and the strings run over.
It is a long, thin strip of material (usually wood). It is laminated to the front of the neck of the guitar. On a guitar, the fretboard is also sometimes known as the fingerboard.
The fretboard or fingerboard is used by holding down the strings against a particular fret whilst the other hand strums or picks the strings below.
Different fretboards, depending on their material and construction, are likely to produce different types of sounds.
Types Of Wood Used For Guitar Fretboards
The three most common types of wood used to make guitar fretboards are Rosewood, Ebony, and Maple.
These woods are dense and strong, making them ideal for instruments such as basses and acoustic guitars.
Whilst most top-quality guitars will use one of the three kinds of wood mentioned above, there are a few up-and-coming types of wood that are becoming increasingly popular.
These are woods such as Indian Laurel, Ovangkol, Padauk, Pau Ferro, and Walnut.
Additionally, some guitars, generally those that are more budget-friendly, have fretboards made from synthetic materials.
Richlite, Micarta, and Rocklite are particularly common and favored synthetic materials because they are durable and most closely mimic the properties of real wood.
Why Do Fretboard Woods Matter?
The material used in the construction of a fretboard has a huge impact on the tone, playability, and overall feel of the instrument.
If you're looking to spend a good chunk of money on a guitar that you will enjoy playing and listening to, you should do a fair amount of research into fretboard woods to ensure that you purchase the perfect instrument for you.
Choosing Between Rosewood And Maple
Rosewood and Maple are very popular types of fretboard woods. As such, many people find themselves in the rosewood vs. maple predicament when purchasing a guitar.
If you find yourself in such a situation, don't worry! We've made a handy guide to ensure that you choose the perfect guitar for you.
There are several factors to consider when choosing between rosewood and maple.
From appearance and durability to tone and playability, each wood boasts its own set of unique features and benefits.
Take a look at our pointers below to choose between these two popular materials!
If you need some pointers as to what guitars to purchase, we've also included a number of great options with both Rosewood and Maple fretboards.
Regardless of your price range and musical needs, there should be something here for you!
Rosewood Fretboards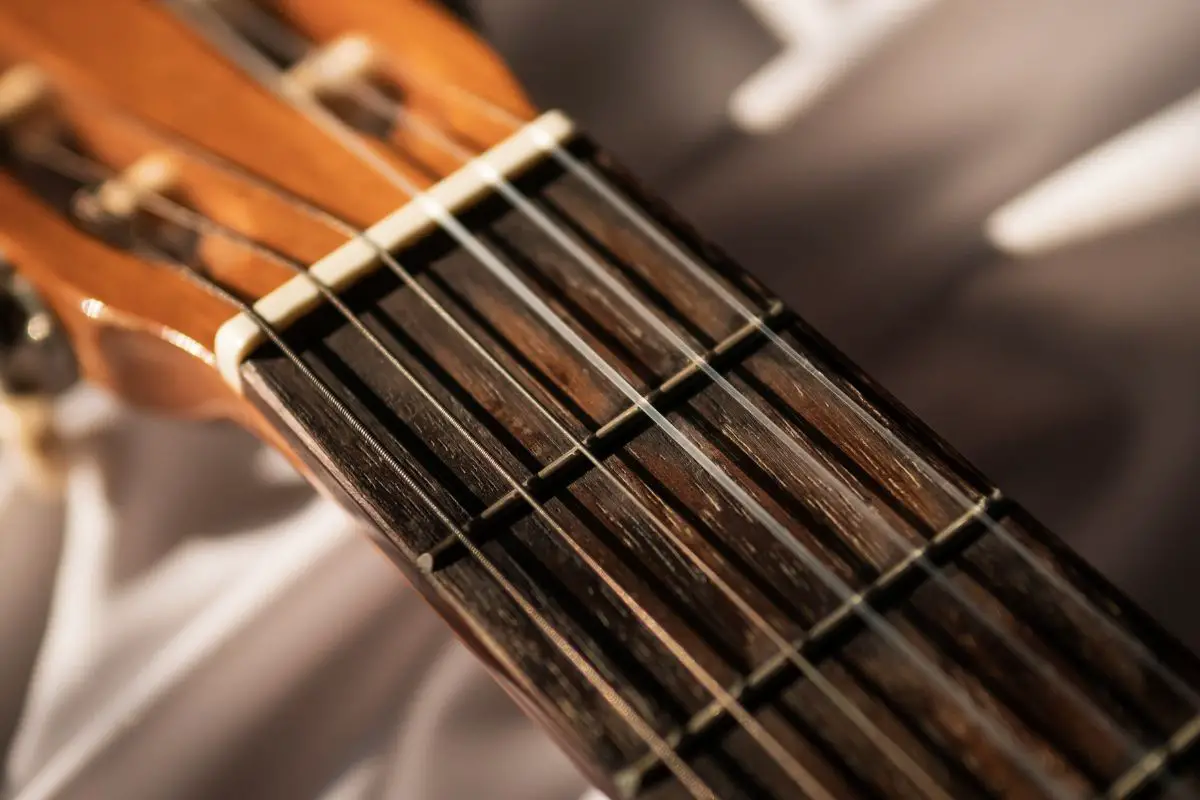 First, let's take a good look at rosewood fretboards. Rosewood has been a popular material in the construction of string instruments for a very long time.
Before guitar fretboards, it was also used to make lutes, violins, and mandolins.
Rosewood is now commonly found on Gibson, Ibanez, and Paul Reed Smith guitars.
It is a popular choice amongst people who prefer a more traditional construction. To learn more about the pros and cons of Rosewood, take a look at the information below.
Appearance
Rosewood fretboards have a noticeably dark red-brown color. In fact, rosewood fretboards have very distinguishable characteristics.
They tend to have a grainy texture, and if you look closely, you will likely notice small ridges in the wood.
Rosewood itself has a naturally oily texture. Consequently, when manufacturing rosewood fretboards, manufacturers will likely refrain from using a thick finish.
Instead, they will likely use a transparent and glossy finish to highlight the natural beauty of the material.
Types Of Rosewood
There are a few different types of rosewood. The most commonly used varieties are listed below, alongside a brief description.
Indian Rosewood
Indian Rosewood is becoming an increasingly popular choice amongst guitar manufacturers.
This is because it is a lot less expensive and much more available than the other two options. It has a particularly grainy texture and a dark coffee color.
Brazilian Rosewood
Brazilian Rosewood is very hard to come by. As such, guitars that boast a Brazilian Rosewood fretboard are particularly rare and sought-after.
In fact, Brazilian Rosewood is now considered a highly endangered species, meaning that very few manufacturers are able to source it at all.
However, if you are desperate to find a Brazilian Rosewood fretboard with a distinctly rich and dark color, you can still do so.
You should instead look to purchase vintage or second-hand guitars – but remember, these are collectible items, so are likely to burn a large hole in your wallet.
Honduran Rosewood
Honduran Rosewood has a similar appearance to Brazilian Rosewood, however, it tends to have a lighter color.
Some manufacturers may stain Honduran Rosewood to make it look more similar to Brazilian Rosewood.
As such, Honduran Rosewood is a good option for people who want the classic Brazilian Rosewood look.
However, it is worth noting that this type of wood is also becoming endangered. As such, it is expected that there will soon be more restrictions placed on manufacturers.
Playability
Regardless of what type of Rosewood you opt for, it is important to note that Rosewood isn't necessarily as smooth-running as Maple. This is because Rosewood is an open-grained wood.
Consequently, if you're a guitarist who enjoys exploring new techniques and manipulating your strings in the process, a Rosewood fretboard will allow you to do so easily and with more control.
Tone
It is believed that the specific tone of Rosewood is a consequence of the wood's oily texture.
Specifically, many people believe that the oily texture absorbs the overtones (pitches that deviate from the specific note).
In turn, this means that the oily texture works to condense the harmonics, making the tone feel particularly warm.
Whether this is the case or not, the warm tone of Rosewood is popular amongst musicians who play a huge range of genres.
Whether you enjoy playing classical guitar or rock music, Rosewood makes for an excellent fretboard.
Maintenance
Due to its open-grain nature, Rosewood fretboards will require a bit more cleaning than smooth wood fretboards (like maple).
If you play your guitar a lot, you will notice that it needs to be cleaned relatively frequently, as dirt will build up in the ridges of the wood.
Additionally, with a Rosewood fretboard, you might notice that the strings begin to dull more quickly than you would expect.
This is because dirt is more likely to build up in a Rosewood fretboard. As such, if you purchase a guitar with a Rosewood fretboard, be prepared to change your strings regularly.
However, despite its ability to pick up dirt, Rosewood is a very durable material. In fact, it is much more durable than Maple or Ebony fretboard because it is a much more solid material.
If you're looking for a long-lasting fretboard, Rosewood is your best bet (but be prepared for some extra cleaning!).
Summary Of Rosewood Fretboards
To summarize, we've included a handy pro and cons list. Check it out below!
Pros Of Rosewood
Excellent for string control and bending.
Durable.
Great for many genres.
Warm tone.
Sought-after appearance.
Cons Of Rosewood
Needs a lot of cleaning.
Brazilian and Honduras Rosewood are endangered.
Best Guitars With Rosewood Fretboards
We know that purchasing a guitar can be a super overwhelming time.
To get you started, we've listed some of the best guitars with Rosewood fretboards available today.
Each one has been selected according to its quality and price tag. Check them out!
This electric guitar is very high-quality, especially considering the price.
If you're fairly new to playing guitar, but you're looking to seriously step up your game, this model is a great option.
The fretboard allows for great versatility, and the well-focused and precise mid-tone sounds really quite special.
The blue color of the body also makes the appearance very unique and eye-catching.
If you're looking for a high-quality acoustic guitar for yourself or another beginner, this Ibanez model is ideal.
The body is made from solid Mahogany and the fretboard is constructed from Rosewood.
As such, this is a very high-quality piece of equipment that will provide a newbie with all of the tools they need to become an excellent guitarist.
If you're looking for a quality electric guitar, you cannot go wrong with this model.
The Rosewood fretboard allows for excellent creativity and aids in producing a wonderfully warm and deep mid-tone.
This model also boasts a thinner 'C' shaped neck which allows for a much more comfortable grip. You will not want to put this beauty down!
Maple Fretboards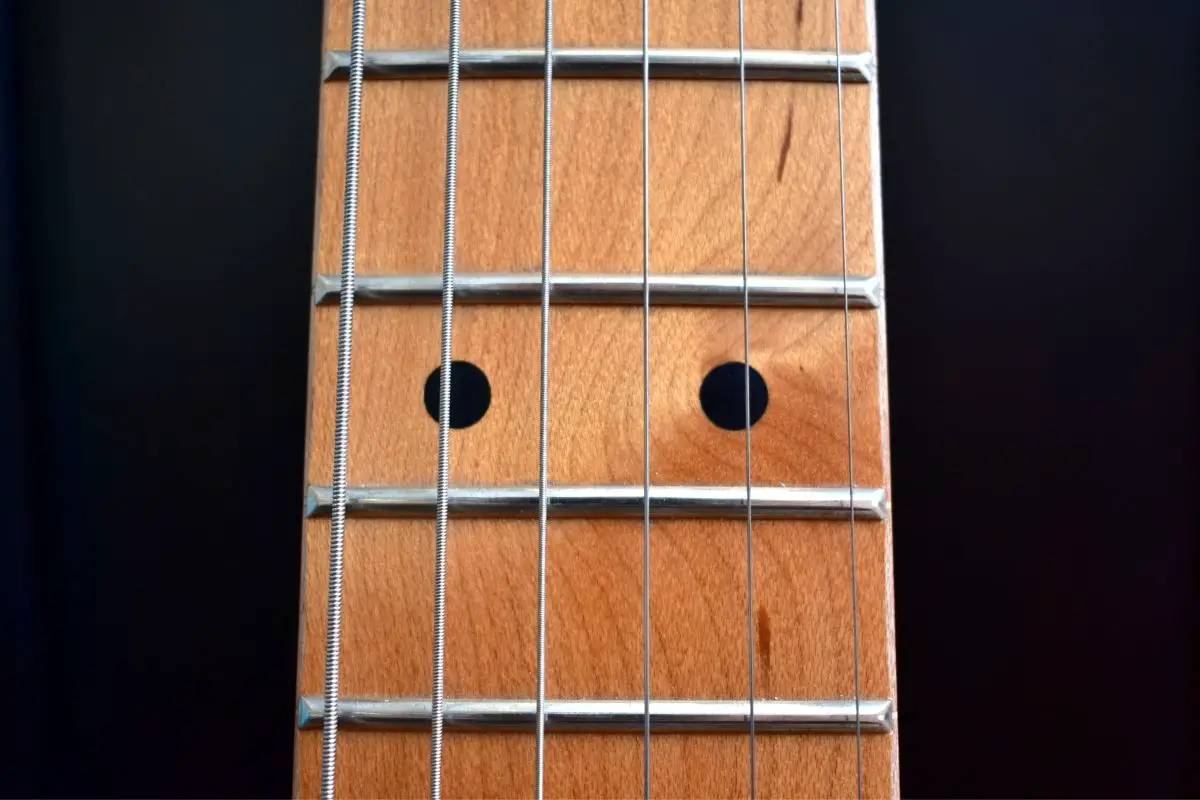 Maple fretboards are also very popular. They tend to have a unique appearance, making them easy to identify.
If you're a fan of the Fender Standard Telecaster and Stratocaster guitars, you may be interested to know that these models typically use a maple fretboard.
Maple fretboards come in a variety of different species. They have a significant impact on the sound and playability of the guitar.
Take a look at the pros and cons of maple fretboards below to see whether this material is well-suited to your needs.
Appearance
Maple fretboards are very light and creamy in color (if they haven't been stained). Maple tends to have very small grains, unlike Rosewood.
It is also an extremely hardwood that is found in regions in Canada and North America.
Maple wood is likely to warp over time. As such, manufacturers use a thicker finish on maple fretboards to avoid warping.
As a consequence, Maple fretboards have a much less natural appearance than Ebony and Rosewood fretboards.
Types Of Maple
There are two types of maple wood used in the construction of guitar fretboards. Check them out below.
Silver Maple
Silver Maple is the more common species of the two. It is also the least expensive type of maple wood.
Generally speaking, guitars that have been manufactured in China or Indonesia generally have Silver Maple fretboards.
However, don't let the inexpensive nature of this species fool you. In fact, the difference in quality between the two types of maple is pretty negligible.
As such, if you're a fan of Maple fretboards and you're on a budget, look out for one made from Silver Maple.
Hard Maple
Hard Maple is significantly harder and heavier than its Silver counterpart. It tends to be used by brands such as Fender and Charvel.
This type of maple is the more expensive of the two, however, it does tend to be more durable than Silver Maple, so it may be worth the extra cost if you're a keen guitarist.
Playability
The playability of a maple fretboard can differ significantly from model to model. This is because the finish of the fretboard plays an important role in playability.
As such, if you're looking to purchase a guitar with a maple fretboard, make sure to educate yourself on the properties of each finish.
We've included a list of the most common finishes below. Check them out.
Gloss Finish
This finish is very shiny. It is a very common finish for Fender models. It tends to feel a little bit sticky under your fingers as you play.
Matte Finish
This type of finish is very light. In fact, it feels as if there is no finish at all. It is perfect if you want the most natural feel possible.
Satin Finish
A guitar with a Satin finish still has quite a natural texture. It doesn't look as shiny as a gloss finish or as rough as a matte finish.
Lacquer Finish
This is a transparent and smooth finish. It is particularly shiny and protective. Generally, it tends to be sprayed on rather than painted.
Gun Stock Oil
Gun Stock Oil makes for a very sleek finish. It feels as though there is no sealant on the guitar at all! It is very similar to a matte finish but tends to perform slightly better.
Tone
Due to its density and hard nature, maple tends to produce a brighter sound and boasts a more prominent high end. It tends to produce a sound that is more snappy and precise than other woods.
If you're looking for a guitar with a soothing and bright tone, you should definitely consider purchasing one with a maple fretboard.
Maintenance
Unfortunately, Maple fretboards are known for showing signs of wear. As the finish wears down, dirt is more easily absorbed into the wood, which then begins to ruin the aesthetic of the guitar.
This is particularly noticeable because of the creamy white color of the wood.
However, it is important to note that this doesn't affect the playability of the guitar at all – it is purely aesthetic.
For some guitarists, signs of wear can be frustrating, but other guitarists enjoy the look provided by visible signs of wear.
Summary Of Maple Fretboards
To summarize, we've included a handy pro and cons list. Check it out below!
Pros Of Maple Fretboards
Bright and precise tone.
Easy maintenance (with the right finish).
Hard feel.
Unique & light appearance.
Cons Of Maple Fretboards
Easily show signs of wear.
May feel less natural.
Best Guitars With Maple Fretboards
To help you find your perfect guitar with a maple fretboard, we've listed some of the best guitars with maple fretboards available today.
Each one has been hand-selected according to its quality, durability, tone, and price tag. Check them out!
This electric guitar is a truly excellent piece of equipment. Coming in 7 different colors, the Fender Player series is an excellent option for guitarists looking to take their art to the next level.
The maple fingerboard is of the highest quality and it matches the creamy-white body to give the guitar a very unique and sleek appearance.
This guitar isn't for newbies. However, if you're a seasoned guitar player looking to really step up your game and spend a good chunk of money on a top-quality guitar, this one is perfect for you.
The soft shape of the body gives the guitar a wonderful vintage feel, and the quality of the sound produced is second-to-none.
If you love playing jazz guitar, and you're looking to invest in a quality piece of equipment, you need to consider the Fender Noventer Jazz Master.
This model is very expensive, but it is worth every penny if you're a keen guitarist. The roasted maple fretboard is very unique and incredibly sturdy.
This guitar has a wonderfully dynamic range that will impress even the most experienced players.
What Are Other Factors That Affect My Decision?
In addition to the fretboard wood, there are a number of other factors to consider before purchasing a guitar.
Check out our tips and tricks below to ensure that you purchase the best model for you and your musical desires.
Acoustic Vs. Electric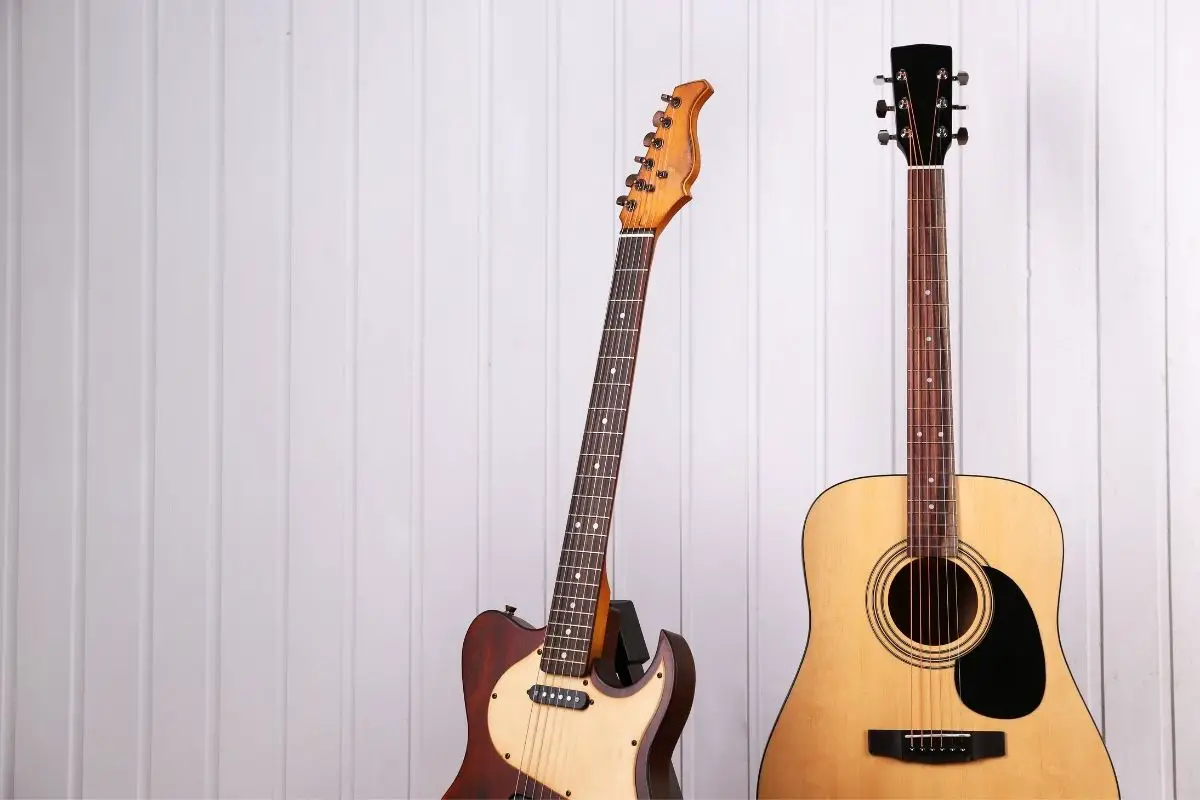 It is first necessary to choose between an acoustic and an electric guitar. This ultimately comes down to two things: experience and the genre of music you hope to play.
If you are a total beginner, we recommend opting for an acoustic guitar. They are far easier to learn on, tend to be cheaper, require fewer accessories, and they can be played anywhere!
Acoustic guitars are also a good choice if you prefer to play classical, folk, country, indie, or other soft styles of music. However, if you prefer playing rock, jazz, or metal, an electric guitar is a better choice.
Body Size
Another important factor to consider is the size of the body. This is generally only necessary if you are choosing to purchase an acoustic guitar.
Acoustic bodies come in various sizes, ranging from small to large. Smaller models tend to cost less and are great options for children or small adults who are beginners hoping to learn how to play.
Larger models offer more volume and sustain, but they can be expensive. Larger models should be purchased if you are serious about playing guitar.
Neck Profile
Both acoustic guitars and electric guitars can have different neck profiles. Some may be thicker and/or rounder than others.
Unfortunately, there is no real way to know which type of neck profile will suit you.
As such, we recommend going into a store with qualified sales assistants so that you can ask for their advice and try out a few different guitar shapes.
If this isn't possible, we recommend opting for a guitar that has an excellent returns policy. That way, you will be able to return the guitar if you don't find the neck profile comfortable.
Price
Before purchasing a guitar, we recommend finalizing a price range.
Don't be fooled by fancy marketing into thinking that you need to purchase an all-singing and all-dancing branded guitar (Also check out What Happened To Firefly Guitars?).
There are some really great affordable models on the market today!
Additionally, if budget is a concern for you, you should also consider purchasing a guitar second-hand.
Many musicians take great pride in taking care of their instruments, and many sell them once they have moved onto different models.
As such, we recommend keeping an eye out for your preferred model on sites such as eBay.
If you're still feeling a bit overwhelmed, don't worry! To give you a helping hand, we've listed some of the best affordable guitars available below.
Each one has been hand-selected according to its quality, durability, and price tag. Check them out!
If you're looking for a small acoustic guitar to learn how to play classical music, this guitar is an excellent and affordable option.
Yamaha is a wonderful and trusted brand with an excellent reputation for manufacturing some of the best quality, yet affordable, musical instruments.
This guitar is great for children who may be starting guitar lessons.
This acoustic guitar is an affordable option that will work for students of all levels. It is 3/4 sized, meaning that it isn't quite full-sized.
However, it is perfect for people who want to play a really great guitar at a great price.
It has a Mahogany construction that aids in producing some wonderful warm tones. It also boasts premium quality strings.
Finally, if you're a total beginner and you're looking for a super-affordable pack to get you started, this one is perfect.
It comes with an acoustic guitar, a chord poster, a gig bag, a tuner, a capo, nylon strings, picks, a cloth, and a strap.
As such, it is the perfect gift for a teen or adult who wants to learn how to play guitar without committing too much.
Playability
If possible, we always recommend that you play the guitar before buying it. This will ensure that you find the guitar comfortable to use and that it produces a tone that you enjoy listening to.
Visiting a music store with experienced sales assistants is always a great idea. You will receive top-quality guidance from staff and feel far more confident in your decisions.
If this isn't possible, we recommend opting for a guitar that has a great returns policy.
This will ensure that, if you decide that the guitar isn't for you upon receiving it, you will be able to return it and get your money back.
It is also always a good idea to check the customer reviews or detailed reviews of the specific model online.
Brand
Whether you're a total beginner or a more advanced player, you will know of the popular guitar brands (Fender, Ibanez, etc).
Purchasing from a well-known and reputable brand is good because you know that you will be receiving a quality instrument, and if you don't, you will receive a refund or some other compensation.
However, don't feel as though you need to purchase from a well-known brand. Branded guitars often come with a hefty price tag which isn't feasible for every buyer.
If you are purchasing from a lesser-known manufacturer, just make sure that the guitar has a good warranty. A good warranty will cover you for any manufacturing or durability problems.
Conclusion – Rosewood Fingerboard Vs Maple
In our (biased) opinions, the guitar is one of the best instruments to learn. It is incredibly versatile, sounds gorgeous, and can be easily transported. What more could you ask for?
However, we know that purchasing a guitar can be an overwhelming and even an intimidating experience.
There is just so much you need to consider! We hope that this article has helped to clear up exactly what you need from a fretboard and what style of fretboard is best suited to your needs.
If you're still feeling a bit conflicted – don't be disheartened! If you're planning on spending a good chunk of money on your new guitar, this purchase shouldn't be used or taken lightly.
It may take a really long time to find the perfect model – but, when you do, you will feel incredible!
I'm glad you found the answer you were looking for regarding the comparison between rosewood vs maple neck fingerboard.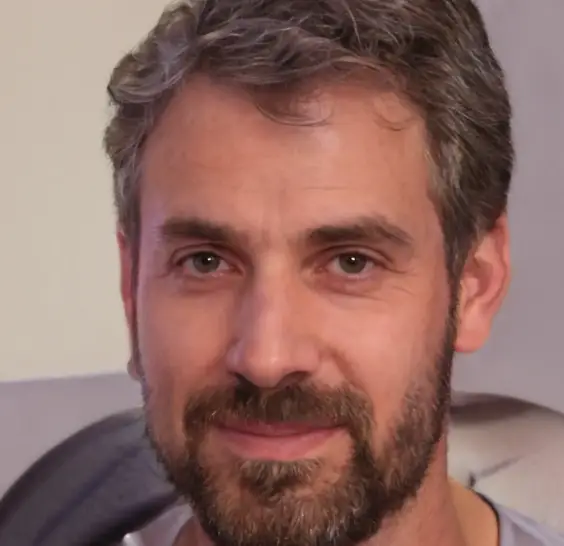 My name is Howard Matthews and I have been playing the guitar since I was knee-high. My parents like to joke that I was pulling the strings even before I was born. In fact, one of my earliest memories is sitting on the couch with my dad's guitar, wreaking havoc on the chords.
Now, 40 years later, I can attest that I play them much better than I did back then. I have followed in the footsteps of both my parents – much to their delight – and have been the main guitarist in my band for the best part of three decades.
Music has always been my passion, and until recently my life has been so consumed with it that I haven't had a moment to have a breath (and I wouldn't have it any other way)!