The guitar is a very versatile instrument that you can play in many different ways. One of the best skills for a guitarist to learn is strumming.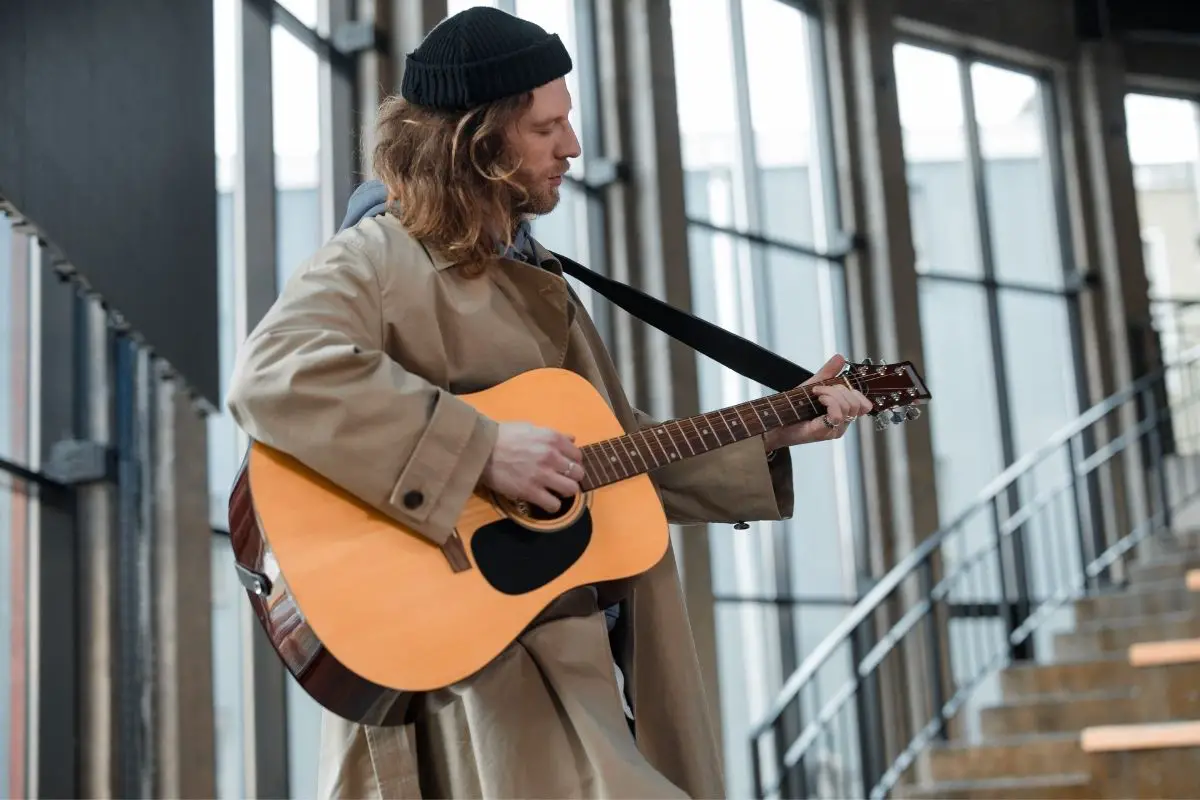 Strumming is the act of playing chords with your fingers on the strings while plucking them at the same time.
The best way to learn how to strum is to play some beginner-level guitar strings that include some simple, yet stunning easy strumming guitar songs.
We have compiled a list of the 10 best songs for beginners to strum along to hone their guitar playing skills.
These are the best guitar strumming songs that every guitarist should know. So, if this is something that interests you, then read on for more!
10 Best Guitar Strumming Songs
Bob Marley: Redemption Song
To start your musical journey, we have Redemption Song is from "Uprising", the 12th album from "Bob Marley and the Wailers" This is one of the few songs that differ from Marley's usual reggae-influenced style.
The strumming pattern of this song is very simple, following a D-DUU-DU pattern. It uses the G-Em-C-Am chords, and with some practice, you'll be playing it well in no time!
Click this link for a lesson on strumming this song!
Passenger: Let Her Go
This is a song with an awesome strumming pattern. Let Her Go by Passenger features on his fourth album, "All the Little Lights" which was critically acclaimed and won countless awards.
If you want to learn how to play this song, you can choose between two ways; either with or without a capo.
If you don't use a capo, then the chords will be G-F-Am-C-Em, and if you do use a capo, then place it on the seventh fret and the chords will be exactly the same.
If you want to learn how to strum this song, then go ahead and click this link.
Cranberries: Zombie
Zombie by Cranberries is a great song for beginner guitar players to learn. But, even if you're not a beginner guitar player, you should make the effort to learn it!
This wonderful strumming song was written while The Troubles were ongoing in Northern Ireland.
It was written in response to the Warrington Bombings in 1993. It is from the album "No Need To Argue" which was released in 1994.
"Zombie" has a very simple four-chord pattern, Em-C-G-D. Not to mention, the strumming pattern is super easy, it follows the pattern of DDD-DUU-DD-DU, which makes it perfect for beginners.
To learn this song, click the link here.
John Legend: All Of Me
"All Of Me" is the perfect song for weddings, anniversaries, Valentine's Day, and lovers around the world cannot get enough of it.
It is a very popular single from the album "Love in the Future" by John Legend. It is traditionally a piano song, but it can easily be learned on guitar using a strumming pattern.
The chord progression looks a bit like this, Em-C-G-D, and the strumming pattern DD-UU-DU is the best one to follow to play this song successfully.
For a lesson in playing this song, click this link.
The Beatles: Something
This is one of the most beautiful and iconic songs ever released by the Beatles, and every guitarist out there should learn how to play it.
It was written by George Harrison, the lead guitarist, and released in 1969. The song's strumming pattern is simple, and perfect for beginners.
It follows a chord progression of F-Eb-G-C which is then followed by a guitar solo that is also easy to learn.
Click this link to learn this wonderful song!
The Beatles: Let It Be
The Beatles make this list for the second time, and for good reason! Let It Be is from the final album of this iconic band, also titled Let It Be.
If you want to try and sing along while strumming to a song, then this is a great one for mastering this skill.
Let It Be is in the key of C, and the strumming pattern goes as follows: D-D-DU-D-D-DU -simple! If you choose to play without a capo, then the chord progression is C-G-Am-Am7-Fmaj7-F-E-D.
If you want to learn Let It Be, all you need to do is click this link!
Vance Joy: Riptide
One of the most well-known ukulele songs that sounds great as a guitar song. You can choose to play with a capo on the first fret, or play without any capo at all.
No matter what your skill level is, learning this song is a must!
To top it all off, this song has a wonderful, simple strumming pattern and an even simpler chord progression. It goes as follows (with a capo) Am-G-C. The strumming pattern looks like DD-U-DU.
Click the link here for more.
Oasis: Don't Look Back In Anger
Don't Look Back In Anger is the fourth single from (What's the Story) Morning Glory? the second album from the British band Oasis. This is considered to be one of the easiest guitar songs to learn.
Don't Look Back In Anger is in the key of C. The chord progression looks a little like C-F-G-Am-E7-Fm-E7/G#, while the simple strumming pattern looks like D-D-DU-D-D-DU.
Click this link to learn how to strum this amazing song!
Nirvana: Polly
Polly is an acoustic rock song that is from the Nirvana album "Nevermind", the second album.
This song is one of the easiest songs that you could learn on this list, which is why we highly recommend it for beginners.
Polly by Nirvana only requires guitarists to learn four chords. What's more, these are power chords, and you only need to hold down two notes for them.
This song is in the Em key and follows an E-G-D-C chord progression. Click this link to access the video that will teach you everything you need to know about this very simple strumming pattern.
Learn how to play this song by clicking the link to this video.
James Blunt: You're Beautiful
James Blunt wrote You're Beautiful for his first album Back to Bedlam in a very short space of time. It is a very simple song with a wonderful, easy strumming pattern.
You will need a capo on the 8th fret, and the chord progression looks like this: G-D/F#-Em7-Cadd9.
Click this link for a video lesson to learn how to play this song.
FAQ
What Are Common Strum Patterns Every Beginner Should Know
There are a great many strum patterns to learn from, going by the top 10 strumming songs we have listed above.
But, if you are wondering about the most common strum patterns you can start learning as a beginner, the below patterns are an excellent starting point.
D D U U D U
B D U B D U
B B D DUB B D DU
B D D U D U
D D D U D U
What's the Golden Rule of Strumming
Yes, there is a golden rule of strumming that can make learning easier for a beginner. That's an upstroke on the upbeats and a downstroke on the downbeats. Simple as this sounds, you must be able to count music for you to hack this rule.
Starting with the downbeats, you must count to four, where the first beat is 1, the second beat is 2, and so on, until you hit the fourth beat and get back to 1. Once you are back to 1, you will end the first bar.
With upbeats, you can count these by counting the space between the downbeats and denoting it with the word 'and'. So, if you are playing both the down and upbeats, it will be '1 and 2 and 3 and 4 and..' from here, you head on to the next bar, and the pattern repeats.
Final Thoughts
Learning how to strum properly is essential if you want to master your guitar skills.
Make sure you take the rhythms slowly. Try and not get overwhelmed as there are so many rhythms you could be learning, as with anything take things slowly and work from the ground up e.g, try D D D D first then try adding in one up strum D D DU D then D D DUDU (a really common and useful one).
There are so many different ways to strum, but the ones mentioned above are some of the best guitar strumming songs that everyone should know, no matter your skill level.
They are incredibly simple yet effective. So, what are you waiting for? Start practicing and improving your guitar playing skills now!
My name is James Ledley and I teach Guitar Ukulele and Bass full-time.  I've been teaching professionally, full time, since 2006 and run my teaching business from Lurgan, Co Armagh N Ireland. My goal is to help everyone fulfil their dream of turning their passion for music into playing Guitar, Ukulele or Bass.