When it comes to buying your first guitar, the sky is quite literally the limit. The world is at your fingertips, and while this is quite freeing, it can also make hunting for the perfect first guitar a little overwhelming.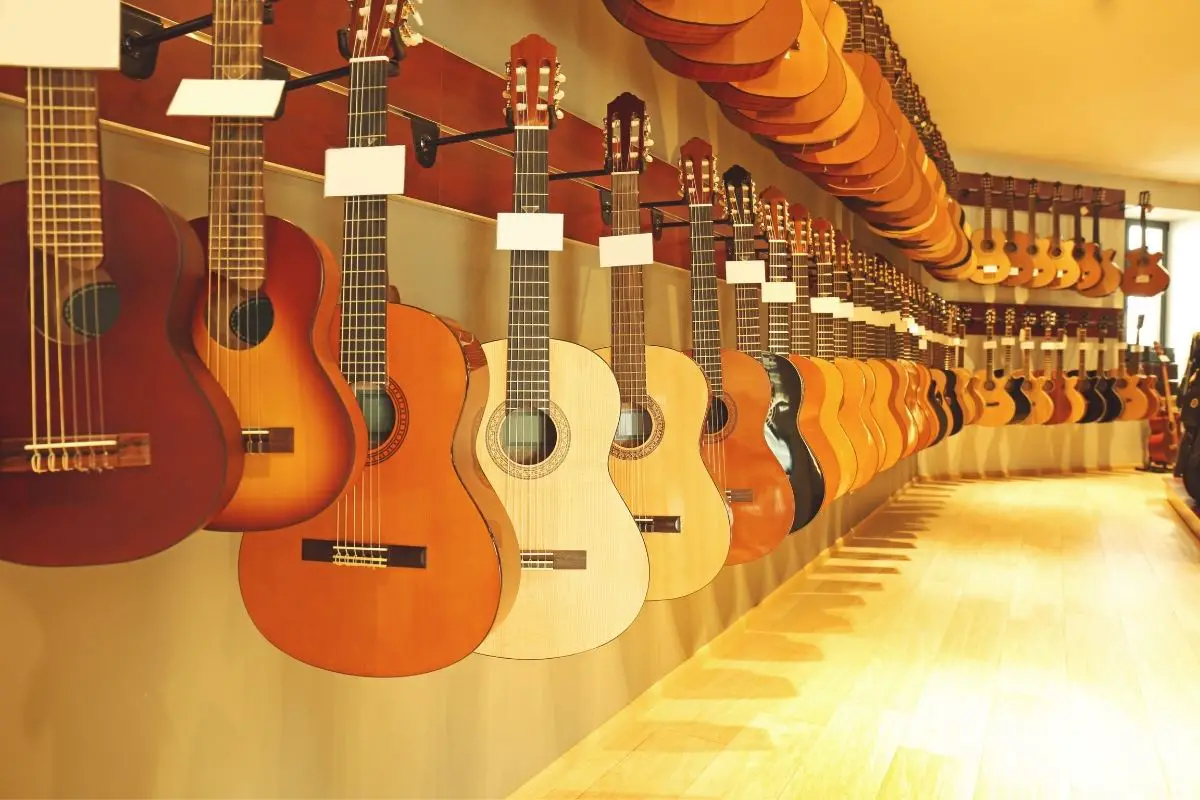 As a beginner, there are some key questions you'll need to ask yourself before making that first purchase, like what genre of music you intend to play, and how much money you have in mind for the instrument.
You will also want to consider if you have any prior experience of playing a guitar, and this could influence the perfect choice for you.
You may also want to consider whether you'd prefer an acoustic or electric guitar, as well as which features you're looking for.
After all, there are lots of different types of guitars out there, and that can make selecting one very hard.
But to help you out, we've compiled a list of 20 different types of guitars and done most of the leg work for you.
We've included information on the different types of guitars available, along with their pros and cons, so you know exactly what you're getting into.
We'll explain what each guitar type is, their unique characteristics, the style of music they're best suited for, and who the guitar is best suited to.
In short, we'll be providing you with all the information that you need to make a decision.
So without further ado, let's get into it and look at 20 different types of guitars!
The Acoustic Guitar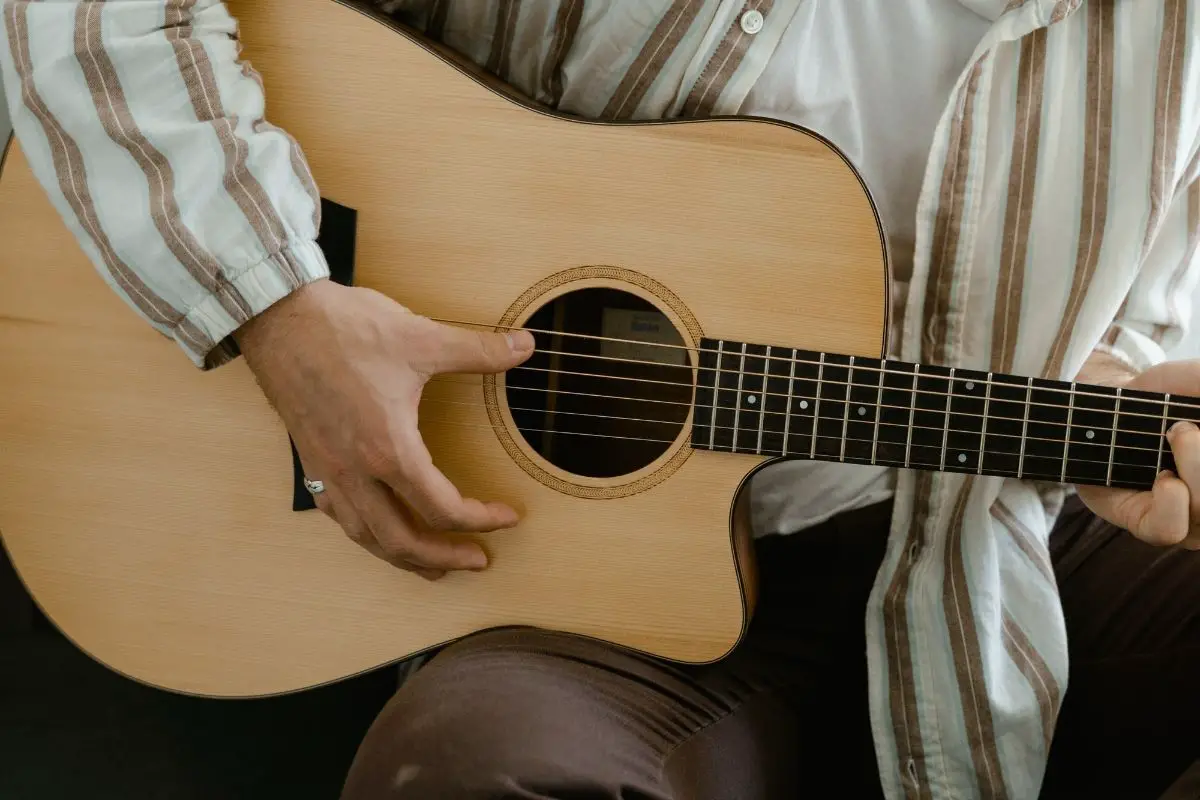 Acoustic guitars are by far the most popular type of guitar out there. They're a staple of the guitar family, and any player who's serious about all things' guitar most likely owns at least one.
They come in many shapes and sizes, but they all share one thing in common – they produce sound through vibration of the strings.
Unlike electric guitars, these don't technically require amplification to make great sounds.
The body of an acoustic guitar is hollow. They have a sound hole that makes the strumming of its strings resonate inside the guitar.
They are usually made from wood, although other materials such as plastic and metal are used too. Acoustic guitars are often cheaper than electric guitars because they don't require batteries or electronics.
These instruments are great if you're just starting out because they don't require any special skills to learn how to play them.
You can pick up a basic acoustic guitar for around $100-$200, depending on the model.
It's a common misconception that all acoustic guitars are the same.
Whilst the differences between the types of acoustic guitars are subtle, more like variations on a theme, these differences can make a huge difference to the sounds they produce.
Read on to see a breakdown of the different types of acoustic guitars.
First off the bat, we're talking about the Classic Acoustic Guitar. These types of guitars are a solid choice if you're a complete beginner, or even for children wanting to learn the guitar.
Classical guitar strings are made out of nylon, as opposed to steel. This translates to the sound these guitars make, being mellow and understated.
They're much smaller than their larger Dreadnought-style steel string guitar cousins, which makes them easier to transport and more comfortable for children to play.
The neck on a classic acoustic guitar is wider and flatter than its steel string counterpart, meaning that players have more room for intricate fretwork and wider cord forms.
Normal electric guitar pickups won't work with these types of guitar, on a count of the nylon strings. You'll either need a pickup designed for nylon strings or make use of a mic to get the amplification you want.
Classical guitars are used prolifically by players of classical, baroque, and renaissance music. But they also work for pop, R&B, and Jazz music too.
Pros
Excellent for beginners
Great choice for younger players
Cons
Not suitable for electric guitar pickups
By far the most common type of guitar, steel string guitars, produce a sound that is fuller and more robust than nylon string guitars.
This means that they're perfect for heavier genres such as blues, rock, and heavy metal.
Steel string guitars are typically made of hardwoods like mahogany, maple, and rosewood, while the necks are often made from ebony.
You can find steel string guitars in various shapes and sizes, including dreadnoughts, arch tops, semi-hollows, hollow bodies, parlors, and auditoriums.
Jumbos and Dreadnoughts tend to produce a more bass heavy tone and louder volume, making them a great choice for aggressive lead playing and loud strumming.
Parlors and Auditoriums generally have smaller bodies, which gives them a more balanced tone and lower volume. They're commonplace amongst players of finger style and mellow folk.
A good rule of thumb when buying a steel string acoustic guitar is to buy something that feels sturdy and well-built.
Another thing worth noting is if you choose a solid wood version, these need the most maintenance.
Solid body acoustic guitars need to be kept humidified, otherwise you run the risk of a warped or cracked soundboard.
Pros
More robust sound than nylon stringed acoustic guitars
Great for heavier genres of music
Cons
Solid wood versions require a great deal of maintenance
One of the oldest styles of guitar, Flamenco guitars were originally made of gut strings.
These days, however, they're usually made of nylon strings, much like the classical acoustic guitar.
They're known for having an extremely fast tempo, and are played with a pick. The string height on a Flamenco guitar is traditionally lower, which adds to the speed they're played at.
They're very popular amongst musicians who play Latin American music, as it's one of the few styles of guitar that uses open chords.
This type of music also lends itself to percussive hits to the strings and body of the guitar, you'll feel that in the guitar when you play it
Flamenco guitars come in different shapes and sizes, but all feature a single cutaway design. This design lends itself to greater access to the upper frets.
Pros
Fast paced and rhythmic
Popular amongst Latin American musicians
Cons
Single cutaway design may not suit your style of playing
The resonator guitar was invented by George Beauchamp in 1892. It was designed to replicate the sound of a mandolin, but with the added benefit of being able to use higher notes.
It features a set of two parallel bars, which vibrate against each other when plucked. These bars are connected to the bridge, allowing the player to adjust their length.
There is usually a metal plate on the top soundboard of Resonator guitars.
The overall sound production on these guitars has a more metallic tone, and is unique when compared to the other acoustic guitars on this list.
It's best used for picking out melodies, rather than strumming chords.
When choosing a resonator guitar, make sure the bridge is adjustable, as this allows you to change the tension on the strings.
You should also look for a guitar with a good quality finish, as this will help prevent damage to the instrument.
Pros
Metallic sounding tones
Easy to learn
Cons
Not ideal for chordal playing
The Electric Guitar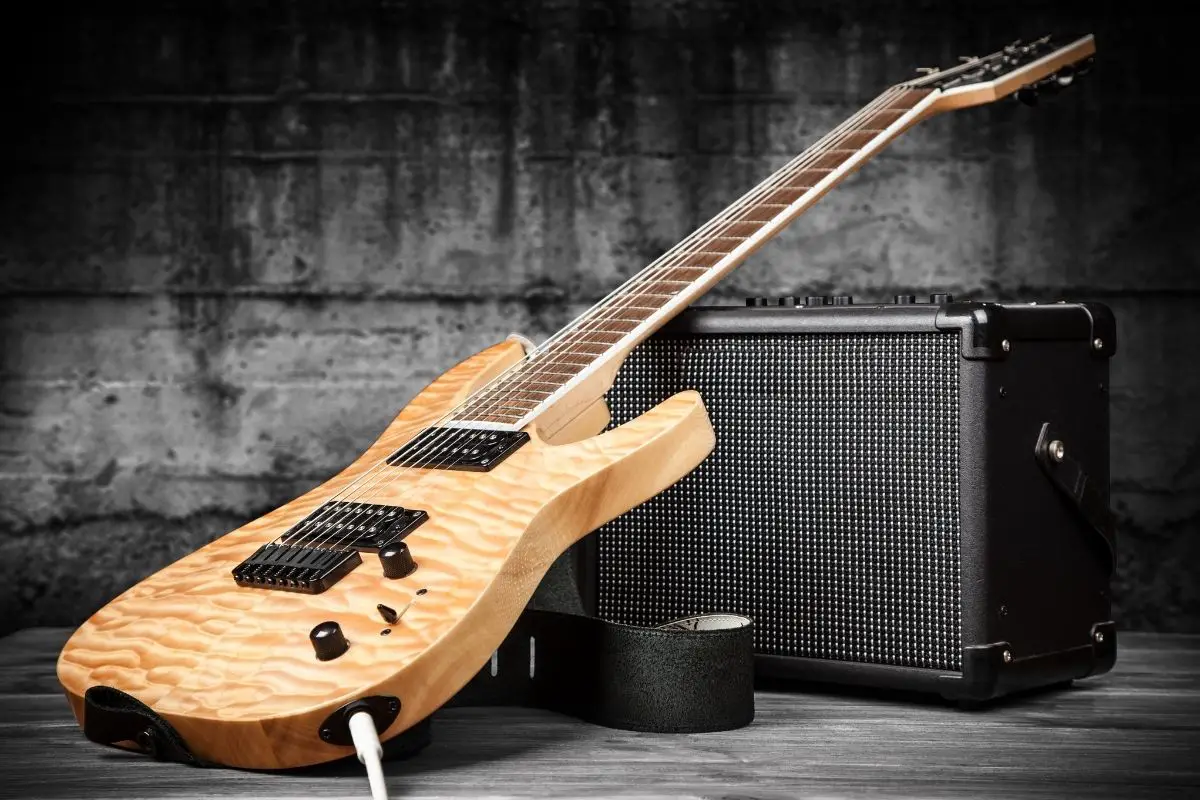 An electric guitar is a guitar that can produce its own sound through amplification.
This means that, unlike acoustic guitars, there is no need for any additional instruments to create a full band sound.
If you take a side by side comparison of acoustic vs electric guitars, the differences in electric guitars becomes apparent, as there is greater variation.
However, some people prefer using an amplifier to add extra volume to their electric guitar. There are many types of amplifiers available, such as tube amps, digital amps, and even wireless systems.
If you want to amplify your guitar, then you should consider buying a preamplifier first.
This will give you control over the volume level, and allows you to connect the output from your amp or speaker directly into your guitar.
You'll find that most electric guitars have either six or twelve gauge strings. Some players prefer heavier strings, while others prefer lighter ones.
Instruments such as Fender Stratocaster, Gibson Les Paul, Epiphone Les Paul, and many others have been manufactured since the 1950s.
Today, most electric guitars are constructed from solid woods, although some models do exist that are made from laminate woods.
Electric guitars are often preferred over acoustic guitars because they provide a louder output, and are easier to tune.
Most electric guitars have three main parts: neck, body, and headstock.
Neck
The neck is where the strings attach to the instrument. It's typically made from either maple or mahogany wood, and features a fingerboard.
Body
The body is the part of the guitar that contains the electronics. Most electric guitars have a hollow body, although some models have a solid body construction.
Headstock
The headstock is located at the end of the neck, and is typically covered by a plastic cap. This is where the tuning keys are found.
Tuning Keys
These are located on the side of the headstock, and are used to tune the guitar to specific pitches.
They are shaped like a triangle, and are used to move the pegs up and down, thus changing the pitch of the string.
A few types of tuners include open gears, friction tuners, and electronic tuners.
Open Gear Tuner
Open gear tuners are very popular amongst beginners. They work by moving the entire headstock back and forth, which changes the position of the peghead.
Friction Tuner
Friction tuners are similar to open gear tuners, however they only move the peg head forward and backward.
Electronic Tuner
Electronic tuners are becoming increasingly common, especially amongst professional musicians. These tuners require a battery pack to be plugged into them, and then placed inside the guitar.
Once the battery pack is connected, the tuner will automatically adjust itself to the correct pitch.
There are different types of batteries available, including rechargeable ones.
Picks
Electric guitars use picks, which are small pieces of plastic that fit between the strings and the fretboard.
Some players use both hands to play, while others hold the pick in one hand and pluck the strings with their other hand.
If you're looking to buy your first electric guitar, it may be worth considering getting a starter kit.
These kits usually contain all the essentials needed to get started, including a guitar, amp, effects pedals, and even a microphone.
You'll also find a strap, chord book, and a music stand.
Guitar Strap
Stands are essential when playing an electric guitar.
They allow the player to rest their left arm comfortably on the guitar, and keep their right arm free for strumming.
Chord Book
This is a great way to learn how chords should sound.
It's a collection of songs written out in standard notation.
Starting off our list of electric guitars is the solid body electric guitar, arguably one of the most popular types of guitars in the world.
Some of the most iconic and easily recognizable guitars, the Fender Stratocaster or the Gibson Les Paul spring to mind, are solid body guitars.
As you might have guessed from the name, this type of guitar features a solid body with no hollow areas. There are a few areas made for the electronics in the body, but the rest is completely solid wood.
The solid-body design has a number of benefits, including reducing feedback when playing at high volumes and keeping the strings sustained longer.
Those of us with excellent hearing notice the difference in the type of wood the guitar is made of, but the majority of tones produced by a solid body electric guitar comes from the pickup and electronics transmitting the signal.
These guitars are traditionally much thinner than acoustic guitars, which makes sense considering they're solid wood.
The solid body electric guitar is best suited to high-volume/high-gain music found in rock and metal.
Pros
Extremely popular and widely available
Great for rock or metal music
Cons
Next on our list is the Stratocaster. This type of guitar was originally designed for country music, but has become an icon for rock and metal music.
This particular model of guitar is often referred to as the "workhorse" of the industry. It's been around since 1958 and has remained largely unchanged over time.
It's also known as a Telecaster because it looks like a Telecaster, although the neck shape isn't exactly the same.
This style of guitar is extremely versatile, making it perfect for beginners who want to learn how to play guitar.
Strats usually have a dual-cutaway body, which gives the player greater access to the upper frets on the neck.
There isn't a guitar with such a wide range of custom parts that we can think of.
There are literally hundreds of companies making everything from tuners and pickguards to tremolo bridges for a custom look for the Stratocaster.
In fact, many famous guitarists began their careers with a Stratocaster.
Pros
Easy to play
Versatile
Popular among musicians
Cons
If you've ever seen the movie Back To The Future Part II, then you know what the Gibson Les Paul is. In the movies, Marty McFly plays his own version of the Gibson Les Paul.
The Singlecut Les Paul is one of the most iconic designs from the 50s. It's endured to this day as one of the most copied guitar designs around.
Gibson created the single cutaway design to make it easier for players to reach higher notes on the fretboard.
It's not just about reaching those higher notes, though. The single cutaway design allows for more room between the body and the neck, giving the player a wider area to work with.
The bodies on the Singlecut Les Paul are often made from mahogany, which compliments the warm tones these guitars can make, along with giving it some weight.
This weight can regularly be a challenge for unseasoned players, as it can make the guitar feel awkward and unbalanced.
It's a very popular guitar for rock, metal, and jazz players.
The Les Paul is typically considered the king of electric guitars. It's one of the first electric guitars to feature a hum bucking bridge pickup.
Pros
Wide variety of models
Popular among musicians
Good for beginners
Cons
Not great for blues or classical
Extra weight can be challenging for new players
The Super Strat is one of the most popular electric guitars out there. It's a hybrid of a traditional Stratocaster and a Telecaster.
These guitars were initially developed by Fender in the 1950s, but became so popular that other manufacturers started producing them.
They're still being produced today by various brands.
These guitars have a number of features that set them apart from other types of guitars. They have a solid body, which makes them much heavier than hollow bodied guitars.
They also have an offset headstock, which means they don't sit perfectly flush against your shoulder when you hold them up. This creates a unique sound.
Some of the best examples of these guitars come from Jackson Guitars. They produce high quality instruments at affordable prices.
Pros
Great for playing fast-paced music
Very versatile
Affordable
Cons
Heavy
Offset headstock may be uncomfortable for some players
The Telecaster has been around since the 1930s. It was originally designed to replace the acoustic guitar, and later evolved into its current form.
It's a classic instrument that's easy to learn how to play. Most people who start learning guitar will pick up a Telecaster before any other type of guitar.
There are many variations of Telecasters available. Some of the most common include the Standard Telecaster, Deluxe Telecaster, Modern Telecaster, Vintage Telecaster, and the Telecaster Thinline.
The Standard Telecaster is the original model. It's a standard size guitar with a bolt on the neck. The Telecaster features two single-coil pickups, one on the neck and one at the bridge.
The body on the standard Telecaster is usually a single cutaway and very flat with few bindings or contours.
Pros
Easy to learn
Versatile
Classic design
Cons
Can be heavy
Neck joint tends to break easily
Unlike regular guitars, a baritone guitar is traditionally tuned to A instead of E. This difference in tuning gives them a much lower range and a unique sound.
The six-string baritone is similar to a normal guitar, save for the longer neck and heavier body.
The Baritone has been used for decades in studios to fill out certain country music songs. Newer heavy metal bands also use the baritone with high-gain for heavy metal styles.
Unlike the other entries on this list, the Baritone tends to be used as a secondary guitar owing to its unique sound production.
Pros
Unique sound
Low cost
Good for beginners
Cons
Not meant to be played solo
May not fit well with other guitars
A 7-string guitar is a seven-string version of the 6-string guitar. It's often referred to as a "jumbo" guitar because it can be quite large.
Most 7-string guitars are made using a combination of steel strings and nylon strings.
This allows the player to get more volume while maintaining a low pitch. Because of their larger size, 7-string guitars tend to be louder than standard 6-string guitars.
Because of the extra strings, 7-string guitars are harder to tune properly.
Pros
Loud
More powerful
Hard to tune correctly
Cons
Expensive
Difficult to master
The Semi-Hollow And Hollow Body Guitar
These types of guitars have a hollow body, which makes them lighter than solid bodied guitars.
They're typically cheaper than solid bodied guitars, but they lack the power and sustain of a full sized guitar.
Semi-hollow bodies are usually made from wood like mahogany, maple, or rosewood. They're frequently smaller than full-sized guitars.
Semi-hollow guitars come in either an electric or acoustic format.
Acoustic semi-hollows are generally easier to find than electric semi-hollows.
Pros
Cheap
Lightweight
Great for beginners
Easier to play
Cons
No sustain
Less powerful
Smaller body
The Archtop Guitar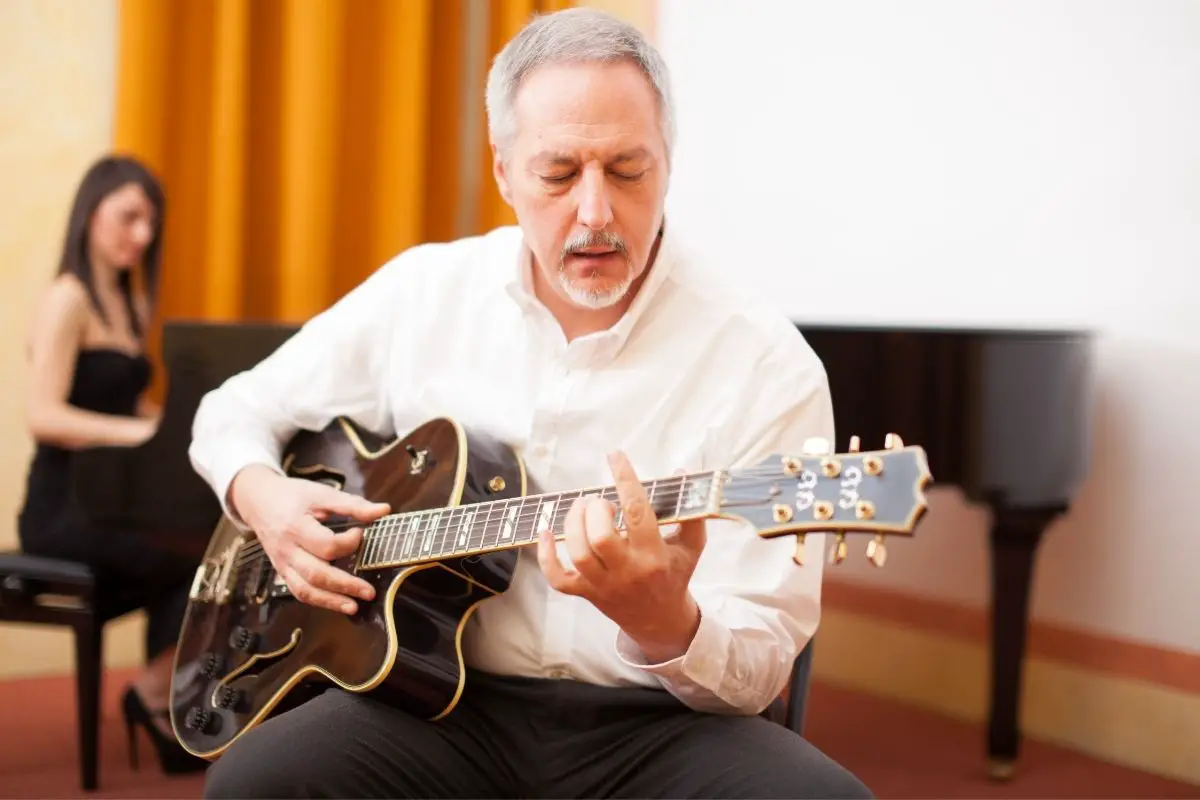 An archtop guitar is any type of guitar that uses an arched top. These guitars were popular during the 1920s and 1930s.
It was the first guitar style to feature a round back and sides.
In the past, these guitars were considered the best sounding instruments. Many jazz players consider the archtop guitar to be their go-to.
This is due to their hollow body and etched F-shape holes, which gives them a warm tone.
In fact, the term "Jazz Box" is often given to archtop guitars, owing to their popularity with jazz guitar players.
Today, most people consider them outdated and old-fashioned.
Pros
Great tone
Vintage look
Popular among musicians
Cons
Heavy
Difficult to play
Limited selection
The Acoustic-Electric Guitar
An acoustic-electric guitar is a hybrid between an acoustic guitar and an electric guitar. It refers to an acoustic guitar which has an electronic pickup.
The pickup makes it easy to plug in an amp or sound system.
If you already have an acoustic guitar, there are plenty of pickups available to use on your acoustic guitar. These can either be installed or taken out.
Whilst some people like having a pickup already installed, others would rather not drill holes in their acoustic guitar, so they use a pickup when needed and remove it when finished.
There are a lot of options out there in terms of electrics on an acoustic electric guitar. Some are available with battery powered pickups to boost tone and give EQ options.
Some models include effects pedals such as distortion and reverb.
Pros
Easy to learn
Good for playing live
Can be used in different genres
Great for recording
Cons
Not suitable for all styles
The Small Guitar
Small guitars are perfect for those of us with small hands or if your little one wants to start learning how to play.
It's quite common for people to be able to adapt to a full-sized guitar after playing a small guitar, but sometimes it makes sense to get a smaller guitar that just fits better.
The Parlor Guitar
A parlor guitar is a small, lightweight guitar designed specifically for home practice. However, they can be seen in the recording studio should the need arise.
There are many parlor guitars that are considered to be pro level.
They're a firm favorite amongst singer/songwriters and composers as they can provide high-quality tones but are a more comfortable size.
Parlor guitars are usually inexpensive and come in a variety of shapes and sizes.
Pros
Affordable
Portable
Easy to learn
Comfortable
Cons
The Traveler Guitar
As you might have guessed from the name, traveler guitars are great for those of us who are musicians on the move.
They're made to be playable, just much smaller than a regular guitar.
You might be considering a weekend away, or a camping trip, these guitars are incredibly easy to take with you.
However, there is always a tradeoff.
Traveler guitars are typically cheaper than other types of guitars. They also tend to be less durable. They also don't tend to have the best tone, and aren't that loud.
Pros
Lightweight
Easy to carry
Cheap
Cons
The 1/2 Size Mini Acoustic Guitar
Nearly all guitars of this size are aimed at beginners, so they're usually reasonably priced. That being said, don't expect pro level quality or details at this price point.
The 1/2 size mini acoustic is perfect for young, novice players. Their small size makes them great for little hands to play, plus they are easy to store and travel with.
There are options for some trendy and unique finishes on these guitars to make them more fun and appealing.
Pros
Affordable
Fun
Easy to learn
Cons
The Tenor Guitar
The Tenor guitar has been around for well over a hundred years. They are often on the small side and have only four strings.
A tenor guitar is a guitar tuned to CGDA. This means that each string is tuned to one octave above the next string.
Tenor guitars are frequently found in folk music and jazz.
They're also often played by vocalists who need to sing higher notes.
Pros
Easy to play
Great for singing
Low cost
Cons
Requires more practice
Less versatile than other guitars
Other Types Of Guitar
Whilst we've tried to maintain each category listed above, there are some guitars that defy being categorized.
This might be because they have unique characteristics or novelties, or are only used in niche music styles.
The 12-String Guitar
Whilst many guitar players like the sound of having 12 strings, the way these guitars are tuned can be confusing.
They're tuned like a normal guitar, but each string is doubled to give you EEAADDGGBBEE. This means that you're not playing 12 different strings, but six sets of strings tuned normally.
It gives your chords and notes a chiming, lush sound when played.
Most 12-string guitars are only found at the pro level, and the price is reflected in this. There are a few which cater to tighter budgets.
The Double Neck Guitar
This is a guitar with two necks, one on top of another. They're considered to be more of a novelty than practical, but they've been popular for decades.
Each neck has its own set of strings, allowing you to switch back and forth between the two. You can choose whether you want to tune both necks together, or just one.
You can even get double neck guitars with three or four necks!
These are great if you want to play songs where you alternate between the two necks.
You can also use them to create a chordal accompaniment.
Double neck guitars are very rare, and most of the ones you'll find will be expensive.
The Steel Lap Guitar
Steel lap guitars are made from steel, and are generally quite heavy.
They're traditionally used in country music, although they can be found in almost any genre.
Most people consider Joseph Kekuku as the inventor of the steel lap guitar, and it's been used by some very famous musicians on various tracks.
They're made to be played using a slide and sit on your lap. Like other guitars made for a slide, the strings are very high, which makes it almost impossible to fret like a normal guitar.
Frequently Asked Questions
How To Choose A Guitar?
Choosing a good guitar is tough. You need to think about what kind of music you want to play, what style you want to play it in, and what size you want to play it.
We recommend starting out with something that's easy to learn. It doesn't matter too much if it sounds bad, as long as you enjoy learning how to play it.
Once you've got a grasp of the basics, then start looking into getting something better
What Kind Of Music Do I Play On My Guitar?
There's no right or wrong answer here. If you want to play rock, pop, blues, jazz, metal, folk, classical, reggae, hip hop, or anything else, you should be able to do so.
If you don't know what kind of music you like yet, try listening to different genres. Try making up new words for different parts of songs, and see what you come up with.
If you're trying to figure out what kind of music you'd like to play, look at the types of instruments you hear around you.
What Three Guitars Should I Own?
So you've mastered the basics of guitar playing and are now asking yourself if you should expand your arsenal of guitars.
Whilst these are completely up to interpretation, every guitarist should (and most likely does) own at least one of the following:
The Fender Stratocaster
A Decent Acoustic Guitar
The Gibson Les Paul
Why Are These Important?
When you're deciding what type of guitar to buy, it's important to remember that not all guitars sound the same.
Different guitars have different tonalities, and you'll notice that certain guitars tend to sound better than others when you play them.
This is because each guitar has a unique tone.
For example, an electric guitar might sound brighter than an acoustic guitar, and a bass guitar tends to sound lower than a guitar.
What Are The Three Main Types Of Guitar?
Whilst we've broken the three main types down throughout this article, at a glance there are three main types of guitar, these are:
The Acoustic
The Electric-Acoustic
Electric
An acoustic guitar is usually strung with nylon strings, and is tuned to EADGBE.
Electric guitars are often strung with steel strings, and are tuned to EADGBe.
Electric-acoustic guitars are similar to electric guitars, but they use both nylon and steel strings.
The difference between an electric guitar and an electric-acoustic guitar is that the latter uses both nylon and steel strings, whereas the former only uses steel strings.
What Is A Five-String Guitar Called?
Whilst the focus of this article has been all about the three main types of guitar, you might have heard people making reference to a five-string guitar. Bass guitars typically have five strings.
Wrapping Up
There are so many types of guitars out there, and they all have their pros and cons. It's really down to personal preference.
Some people prefer the feel of a nylon strung acoustic, whilst others love the sound of an electric guitar.
There's no right answer – it depends on what you want to achieve. If you're looking to learn how to play guitar, then you should start off with a cheap beginner guitar.
If you want to make money from your music, then you should invest in a professional quality instrument.
Latest posts by Howard Matthews
(see all)